Movies
---
Jeet began his acting career with the lead role in Saathi directed by HaranathChakraborty 2002. Followed by films Champion (2003), Naater Guru (2003), Shongee (2003), Premi (2004), Bondhon (2004), Juddho (2005),Hero (2006), Neel AkasherChadni , Wanted (2010), Josh (2010), Dui Prithibi (2010), Fighter (2011), Shotru (2011), 100% Love(2012), Awara (2012), Deewana (2013), Boss (2013), Game (2014), The Royal Bengal Tiger (2014), Bachchan (2014), Besh KorechiPremKorechi (2015), Power (2016), Badshah (2016), Abhimaan (2016).
ABHIMAAN (GEPL, Reliance Entertainment, & Walzen Media Works Pvt. Ltd.) 2016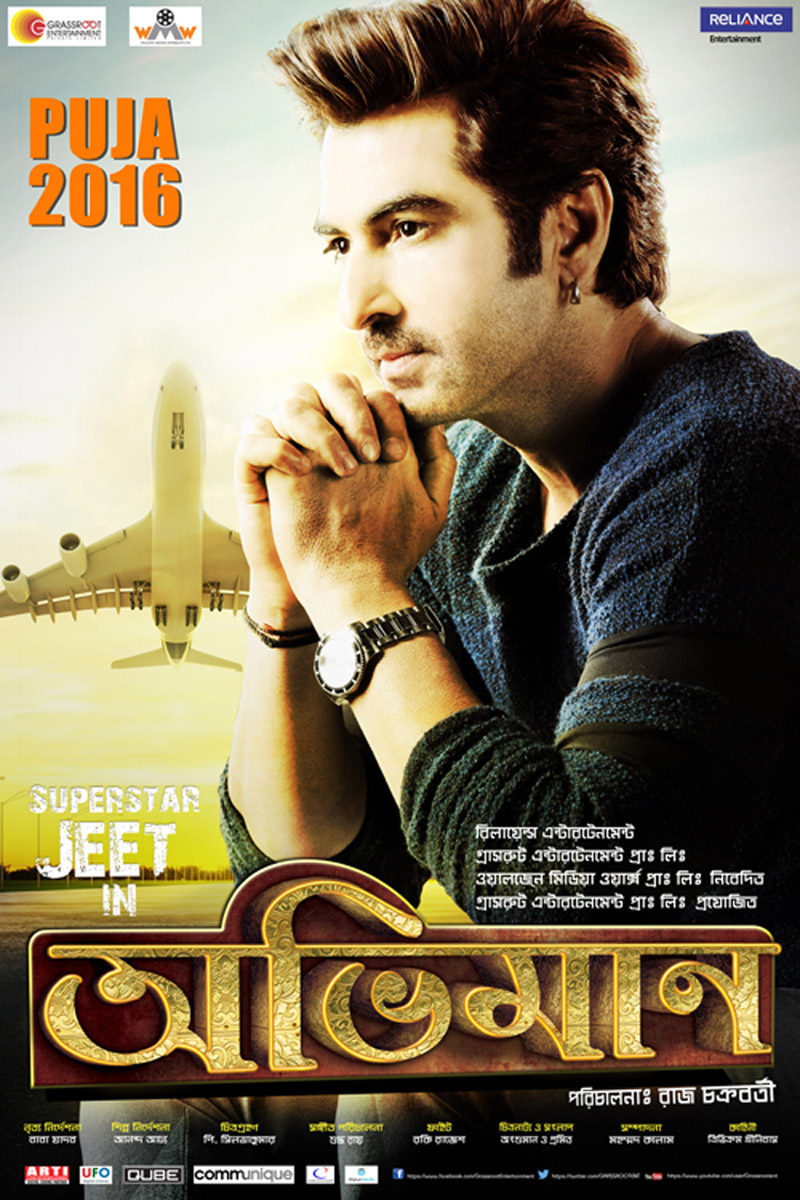 DIRECTOR :- RAJ CHAKRABORTY
MUSIC:- SUDDHO ROY
STORY :- ANSHUMAAN PRATYUSH
SCREENPLAY:- PRAMIT
DOP:- P. SHELVAKUMAR
EDITOR :- MD. KALAM
Abhimaan is the story of a proud business tycoon Ashok Deb Burman (Sabyasachi Chakraborty) and his estranged daughter Madhuja (Anjana Basu). Madhuja harbours hate for her father — who disowned her because she married someone against his wishes.. Twenty five years have now passed. Mellowed with age, Ashok now wants to mend his relationship with Madhuja. For this, he seeks the help of his grandson, Aditya Deb Burman (Jeet (actor). The rest of the story follows Aditya's entering the house posing as a driver and how he gets into many adventures and misadventures and finally succeeds in reconcilling his grandfather with his aunt.
BADSHAH (2016)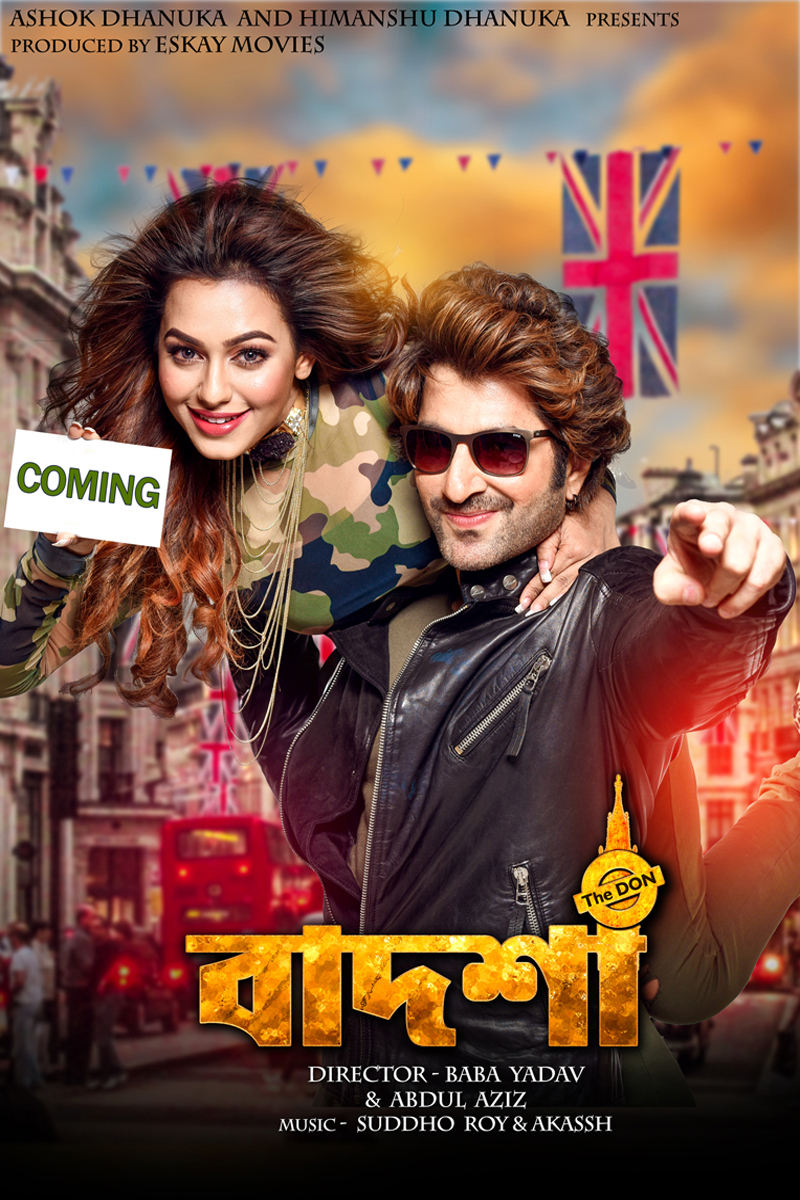 DIRECTOR :- BABA YADAV & ABDUL AZIZ
MUSIC:- SUDDHO ROY & AKASSH
STORY :- ANSHUMAAN PRATYUSH
SCREENPLAY:- PRAMIT
DOP:- P. SHELVAKUMAR
EDITOR :- MD. KALAM
A story of a boy who always wanted to be a Don from childhood. He reaches to London, England, where he friends a girl named Shreya and he fall in love with her.
POWER (2016)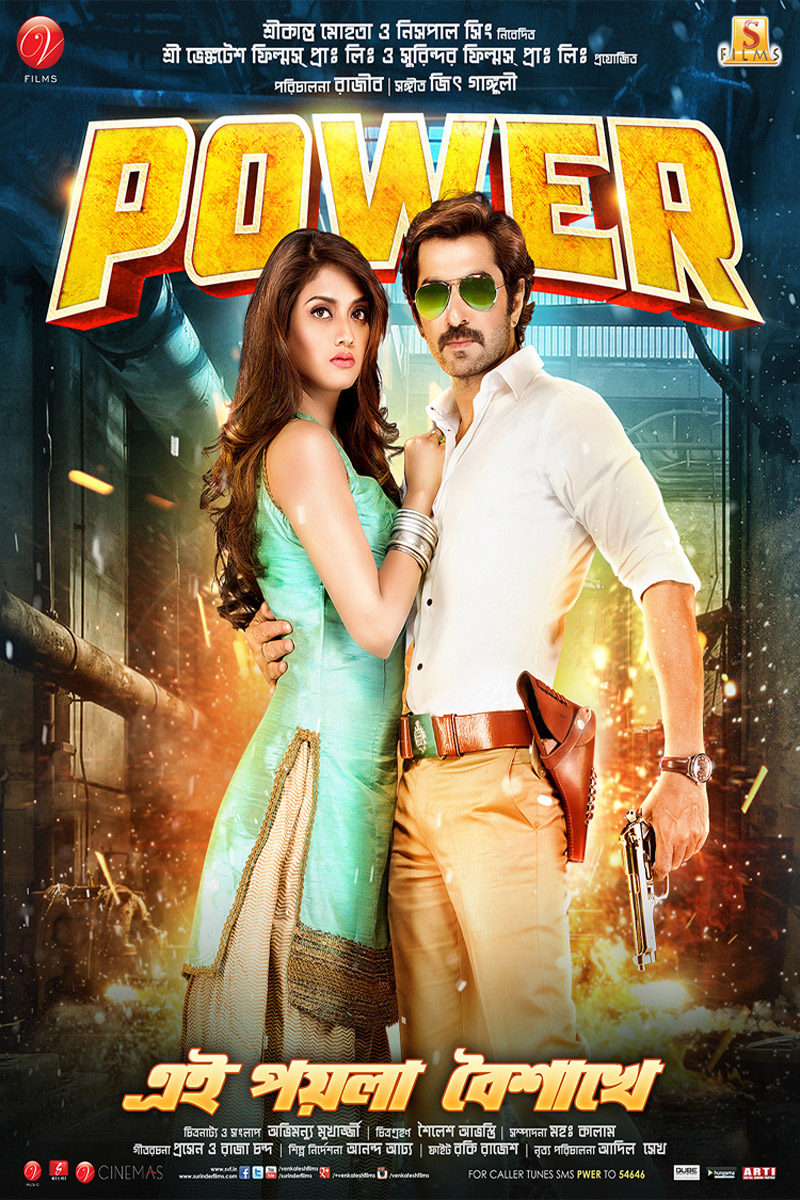 DIRECTOR :- RAJIV KUMAR BISWAS
MUSIC:- JEET GANGULY
STORY :- ABHIMANNU MUKHERJEE
SCREENPLAY:- ABHIMANNU MUKHERJEE
DOP:- SAILESH AWASTHI
EDITOR :- MD. KALAM
The plot is simple- a man who was the look-alike of an honest police officer in his previous life, is eager to join the police. He gets the opportunity,and what follows next is a thrilling ride of comedy with Kharaj, and action along with a flashback to his previous life, which was thought to be another person altogether.
Besh Korechi Prem Korechi (2015)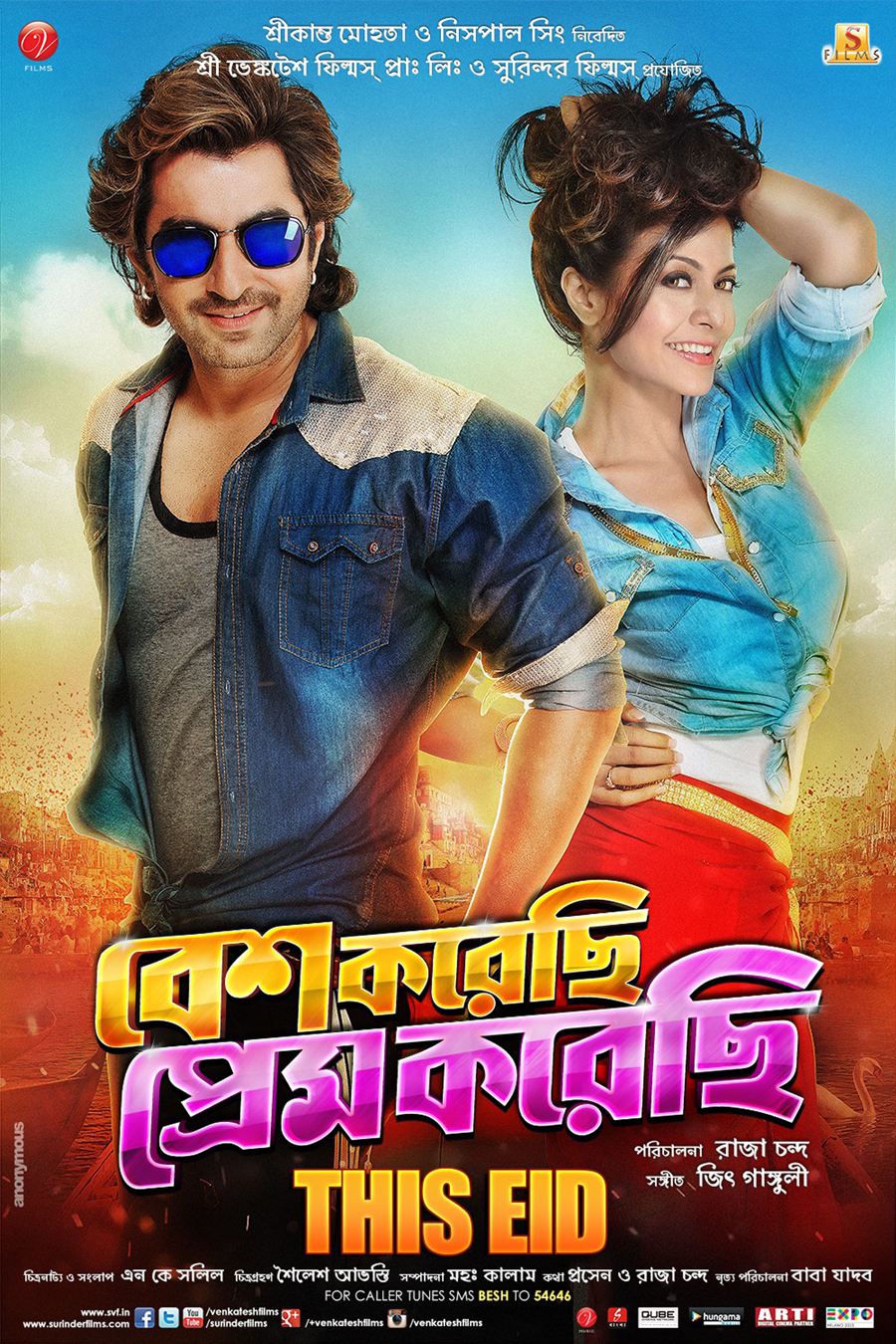 DIRECTOR :- RAJA CHANDA
MUSIC:- JEET GANGULY
STORY :- SANJEWA PUSHPAKUMARA
SCREENPLAY:- N.K. SALIL
DOP:- SAILESH AVASTI
EDITOR :- MD. KALAM
ADITYA (JEET) is a smart young man, who has a solution for every problem. One fine day, he meets RAI ( KOEL) and falls in love with her; Later Rai also falls for him. however, he soon realises that he has rubbed her elder brother on the wrong side ( Ashis Vidyarthi). Aditya then with his plans brings his elder brother and Rai to his own house as paying guest. Then Aditya slowly unites the brother with his another sister who he had thrown out of his house for loving a boy not of his brother's choice. All was going fine when on the marriage day of Rai and Baskar (Vivaan ghosh) as planned by Aditya , Aditya reveals to Dibakar ( Ashis Vidyarthi) that he is actually the son of his rival Raghab Singh ( Puneet Ishar) . Finally after the climax fight Aditya wins to get Rai , his love of his life.
THE ROYAL BENGAL TIGER (GEPL , VIACOM ,FRIDAY FILMWORKS) 2014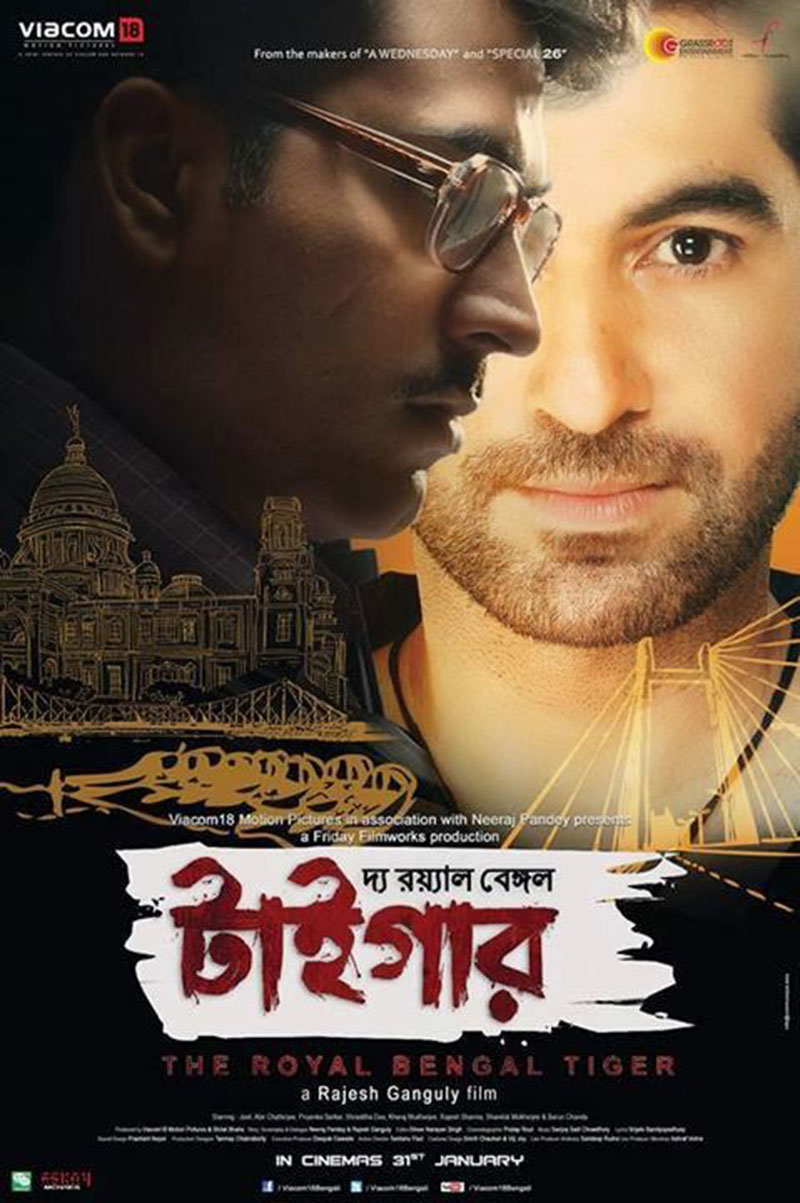 DIRECTOR:- RAJESH GANGULY
MUSIC:- JEET GANGULY
STORY & SCREENPLAY:- NEERAJ PANDEY
DOP:- Pratap Rout
EDITOR :- Shree Narayan Singh
Abir plays Abhirup,a guy who is as ordinary as any other person can be and has no personality simply because he is one of the most timid people you can know. He has no say in anything and he refuses to speak up even when required. There are a number of occasions when people are out to destroy him- like his office colleague who tries to finish him, like his tenant who refuses to pay rent and humiliates him or like his colleague who gets molested in front of him. Yet on each occasion, he remains a mute spectator. However suddenly one day everything changes when his childhood friend and saviour, Anjan(Jeet), comes back in his life and awakens the tiger in him and he becomes the man possessed and he becomes the 'TRBT'
GAME ( GEPL & RELIANCE ENTERTAIMENT) 2014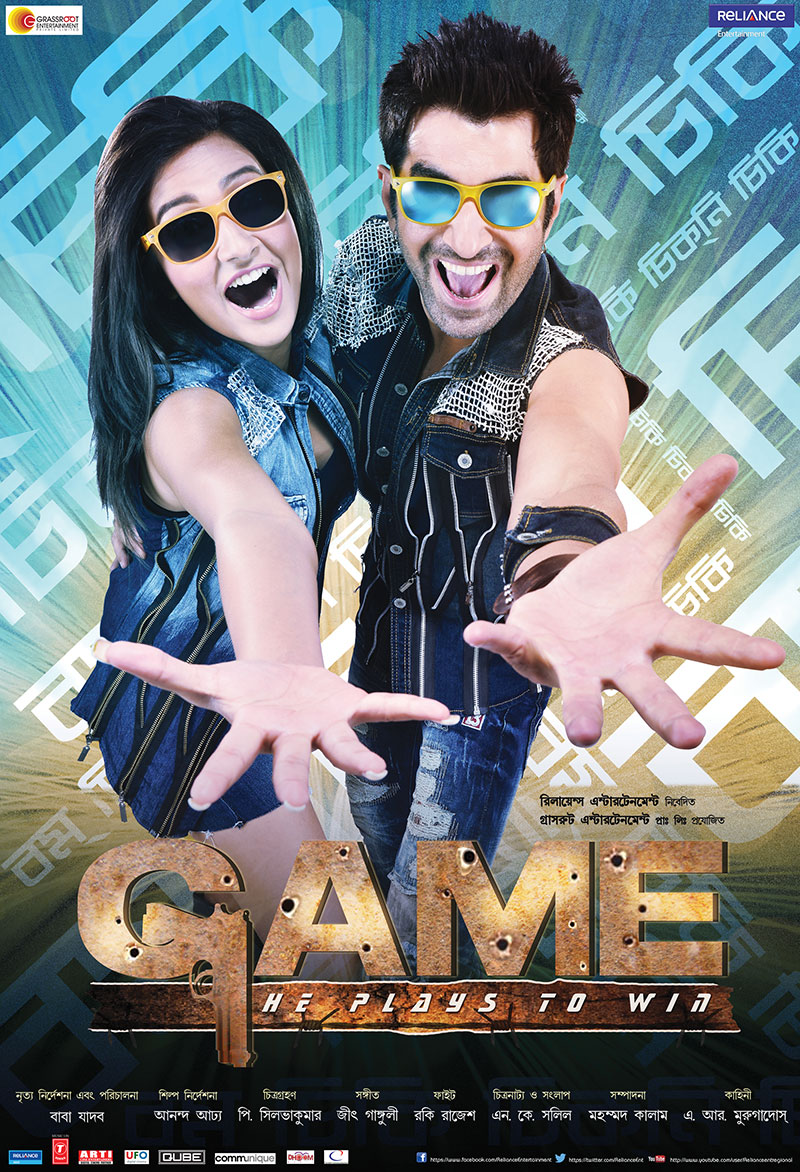 DIRECTOR:- BABA YADAV
MUSIC:- JEET GANGULY
CHOREOGRAPHY:- BABA YADAV
FIGHT :- ROCKY RAJESH
EDITOR :- MD. KALAM
"GAME" is about Abhimanyu (JEET), an army man and a secret DIA agent, who returns to Kolkata on vacation. He has a loving family who wish to get him married to Trisha (Subhashree) a girl chosen by his parents. Along with his romantic escapades, he also has a greater task at hand as he has to eradicate sleeper cells that are out to bomb and terrorize Kolkata across 12 prominent localities. Abhimanyu manages to successfully spoil the plan of a serial bomb blasts with the help of his 11-army friends which alarms and shocks the kingpin. The remaining story revolves around how Abhimanyu takes on this terror network and emerges out of it.
BACHCHAN ( GEPL & RELIANCE ENTERTAINMENT)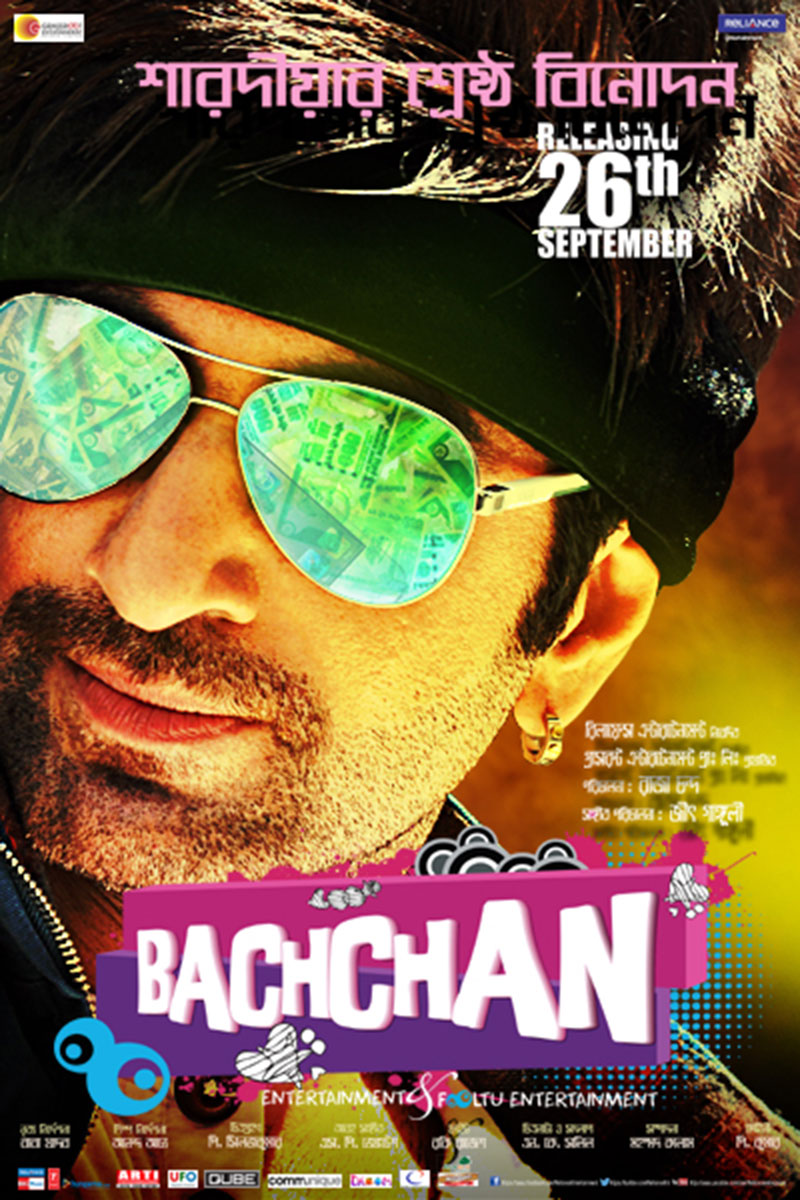 DIRECTOR:- RAJA CHANDA
MUSIC:- JEET GANGULY
CHOREOGRAPHY:- BABA YADAV & GANESH ACHARYA
FIGHT :- ROCKY RAJESH
EDITOR :- MD. KALAM
Jeet(Bacchu) plays a crazy fan of The Big B and so he is called VIJAY BACHCHAN because of his immense adulation for the superstar. He walks, talks, fights and tries to imitate Big B in every which way He also gets to romance an armyman's daughter by posing as a doctor and fighting the goons at the same time. It was a Puja release and have done quite well at box office. The movie featured 3 heroines ,Aindrita Ray from Kannada film Industry, PayelSarkar, and Subhoshree for an item dance, choreographed by Ganesh Acharya.
BOSS (GEPL & RELIANCE ENTERTAINMENT ) 2013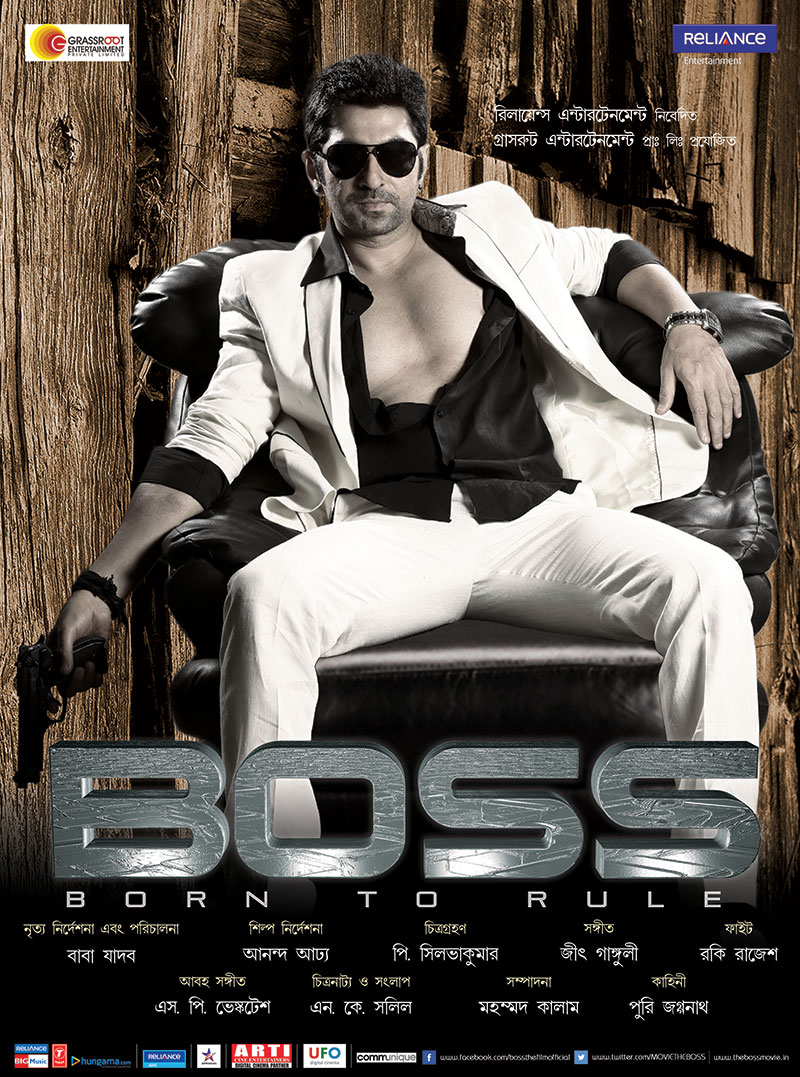 DIRECTOR:- BABA YADAV
MUSIC:- JEET GANGULY
DOP:- P.SHELVAKUMAR
CHOREOGRAPHY:- BABA YADAV
FIGHT :- ROCKY RAJESH
EDITOR :- MD. KALAM
Boss:Born to Ruleis a 2013 Bengali crime thriller film, directed by choreographer Baba Yadav, making his directorial debut. It is a remake of the 2012 Telugu film Businessman which was directed by PuriJagannadh. The film was jointly produced by Reliance Entertainment and Grassroot Entertainment and distributed by Jalsha Movies Production. The film stars Jeet and SubhasreeGanguly in lead roles, while Chiranjeet and RajatavaDutta appears in prominent roles. The story revolves around a rookie named Surya (Jeet) who lands in the country's commercial capital with an intention to become a Mafia Don. In the process, he falls for Rusha (SubhasreeGanguly), daughter of the police commissioner, it got Blockbuster results at box office.
100% LOVE ( GEPL & SHREE VENKATESH FILMS PVT LTD) 2012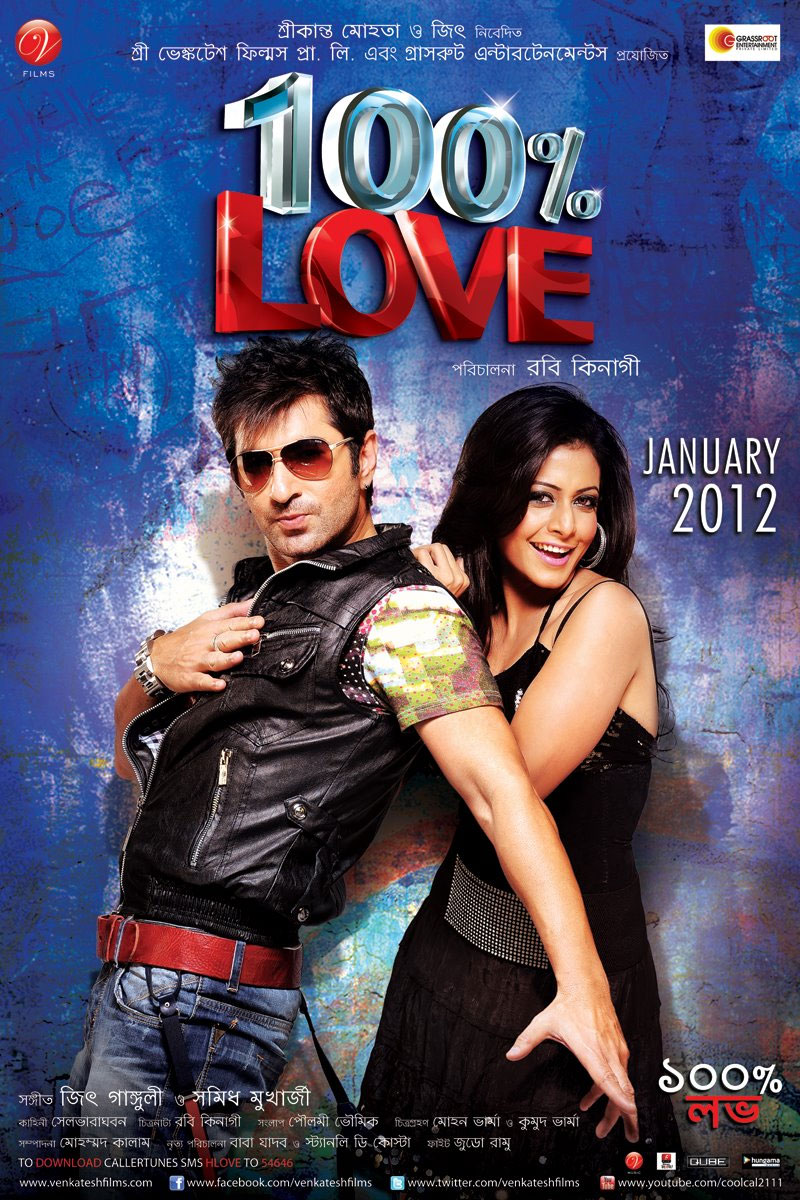 STARRING :- JEET, KOEL, BISWAJIT CHAKRABORTY, MOUSUMI SAHA, ETC
DIRECTOR:- RAVI KINNAGI
MUSIC:- JEET GANGULY
DOP:- MOHON VERMA
CHOREOGRAPHY:- STANLEY D'COSTA & BABA YADAV
FIGHT :- JUDO RAMU
EDITOR :- MD. KALAM
The Movie of Jeet&Koel is the sweetest Love Story that deals with commitment despite familial attachments. In the film Koel plays the role of a girl who is torn between Love for her soul-mate and commitment towards her family. Not really a teenage romance and most crucially it is an emotionally charged love story where dedication to all matters concerning the heart is everything.
DEEWANA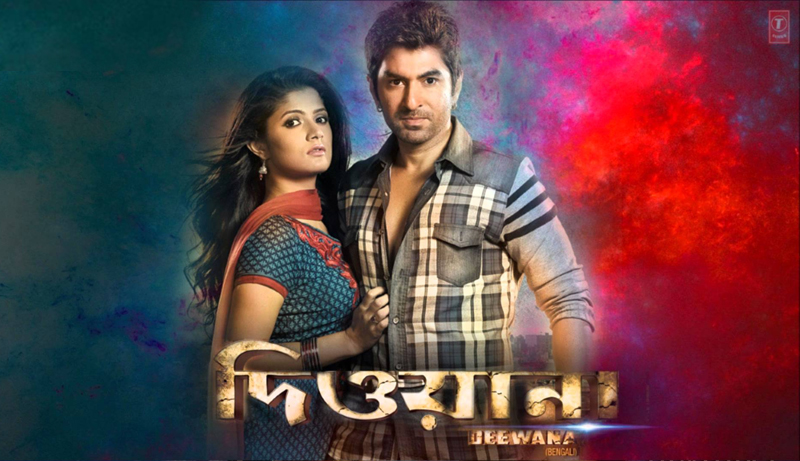 Abhi (Jeet) is a funloving and extremely popular boy from Phoolbari, a small township in North Bengal. His father Indranath (Biswajit Chakraborty) is a highly respected man in Phoolbari. Agnidev Roy (Bharat Kaul), a dreaded mafia from Kolkata, sends his daughter Shruti (Srabanti) to Phoolbari on a vacation. Binay (Supriyo Dutta) an old aide of Agnidev requests Abhi to receive Shruti at the railway station. Abhi takes an instant liking for Shruti the moment he sets his eyes on her at the railway station. Gradually, Shruti starts to enjoy the company of Abhi and his friends and the fondness between Abhi and Shruti grows. One day, Abhi finds out that Shruti is suffering from 'post traumatic event disorder', since the time she met with a car accident recently. She has no memory of the last three years. When Abhi takes her to a doctor at Phoolbari, the doctor states that Shruti can be cured, but she might not remember anything of her visit to Phoolbari, her friends or even Abhi.
AWARA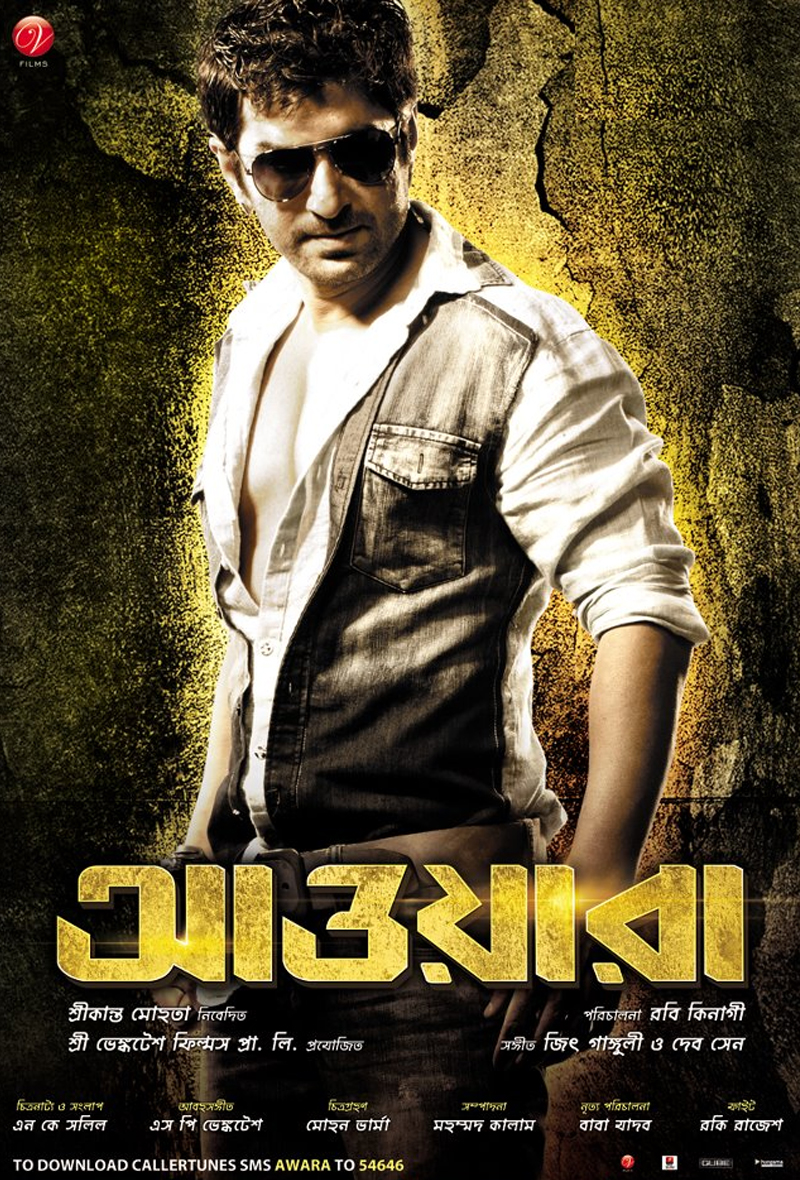 The film is about Surya Narayan (Jeet) who was once a software engineer but quits his job to give it to his friend and is unemployed in the city of Cooch Behar. Poulomi (Sayantika Banerjee) is a girl from Kolkata who studies in college and comes to Cooch Behar for her vacation to stay with her elder brother Madan Mohan (Kharaj Mukherjee) and his wife. Surya falls in love with Poulomi at first sight and starts chasing her to win her heart and enters the upper portion of their house as tenants with his brother, Upendra Narayan (Biswajit Chakraborty) and sister in law (Tulika Basu). In this process Surya will have clash with local rowdy Shanatan Panja (Tamal Roychowdhury). Mistaking him to be one tapori, Poulomi hates him first but later on she realizes his true nature . She returns to Kolkata and lives with her older brother (Ashish Vidyarthi), a former builder and now a very powerful rowdy who is very possessive and protective about his sister. Surya follows Poulomi to Kolkata and works his way into their house with the help of Madan Mohan and finally both of them confess their love. There, Surya knows the flashback of Poulomi and how she is being chased by the notorious and cruel Tony Bharadwaj (Mukul Dev) assisted by his uncle (Supriyo Dutta) for marriage. Surya fights Tony, Poulomi's older brother kills Tony, and Surya marries Poulomi.
HELLO MEMSAHEB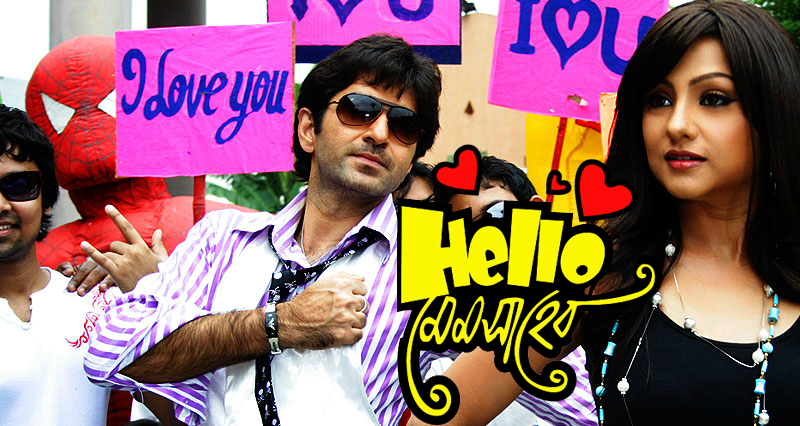 Megh sees Mita one day and falls in love at first sight. He follows her to her house and discovers that she is expecting a 'man servant' from Orrisa.He decides to pose as the man servant 'Priyo'.This game continues for quite some time.Meg also comes to know that Mita is actually his employee.Mita also discovers his real identity one day. She is furious and does not accept him.Megh hatches a plot with his grandmother where there is a false marriage taking place.Mita arrives at his marriage after getting his invitation and discovers that everything had been planned in that manner so that he could win her over.
SHOTRU
Based in Hridaypur, Police Officer Dibakar Singha lives a wealthy lifestyle with his parents, grandmother, and a sister. He is very well respected in the community, and everyone rises up to support him when a gangster, Arjun Sarkar, brings an army of goons to intimidate him. The latter is humbled and humiliated and returns home to Howrah where he uses his influence with politicians and senior police officers to transfer Dibakar. Once there, the latter finds out about Arjun's criminal activities but is prevented from taking any action by his supervisors. Frustrated, he and his friends, including his sweetheart, Pooja, must endure more humiliation at the hands of a ruthless Arjun - who plans on carrying with his agenda of terrorizing and humiliating Dibakar with impunity.
FIGHTER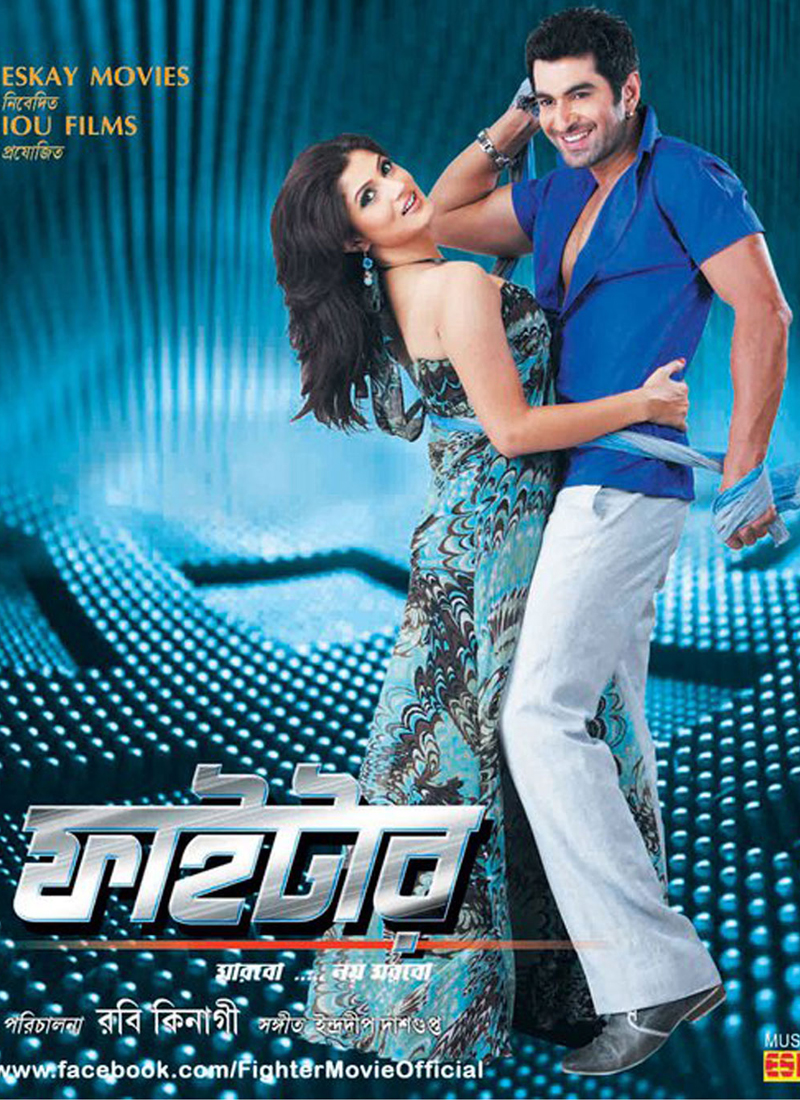 The film starts with a flashback. ACP Bose (Ferdous) is a sincere police officer happily married and lives with his parents and younger brother Surya (Jeet). Surjo is a college student and he falls in love with his classmate Indu(Srabanti). Enter Section Shankar, Bharat Kaul, the villain who is notorious for settlements and land deals. Indu comes across ACP Bose when she is on a field trip from her college with her friends. She gets friendly with his daughter Pinky who tells her that she would get her introduced to her uncle Surya and they would make a good pair. It turns out that Surya studies in Indu's college and soon after they accidentally even come to know each other and get close.
ACP Bose investigates the case of a dreaded criminal Section Shankar whom no one has been able to touch. He is even involved with a land deal involving crores of money which is completely illegal and others including the D.I.G is involved. When the chairman of the bank who has lent money for the deal demand the money back as the deal hasn't worked, but Section Shankar eliminates him. The people who are customers of the bank take to the streets and try to damage the bank.ACP Bose arrives there, arrests the manager and takes him away. Somehow Section Shankar comes to know where the manager has been taken .He arrives there with his men and the D.I.G and nearly kill ACP Bose. Section Shankar asks his men to dump the body. On the way, somehow Surya gets involved and ultimately rescues his brother from a burning bus and the elder brother dies in the younger brother's arms. The entire media and the people think that ACP Bose has swindled off all the money as they have been made to believe that by the D.I.G.Surya decides to take revenge on the people who killed his brother. Firstly he kills Nikhil (his friend and Section Shankar's friend) .Then he kills the D.I.G (he had been taken to jail and he had escaped).Nikhil had also kidnapped Indu as he wants her at any cost, but Surya rescues her. Section Shankar also kidnaps the entire family of Surya.Surya goes to Section Shankar house's where he kills Shankar and rescues his family under the supervision of the new D.I.G who supports him wholeheartedly.
DUI PRITHIBI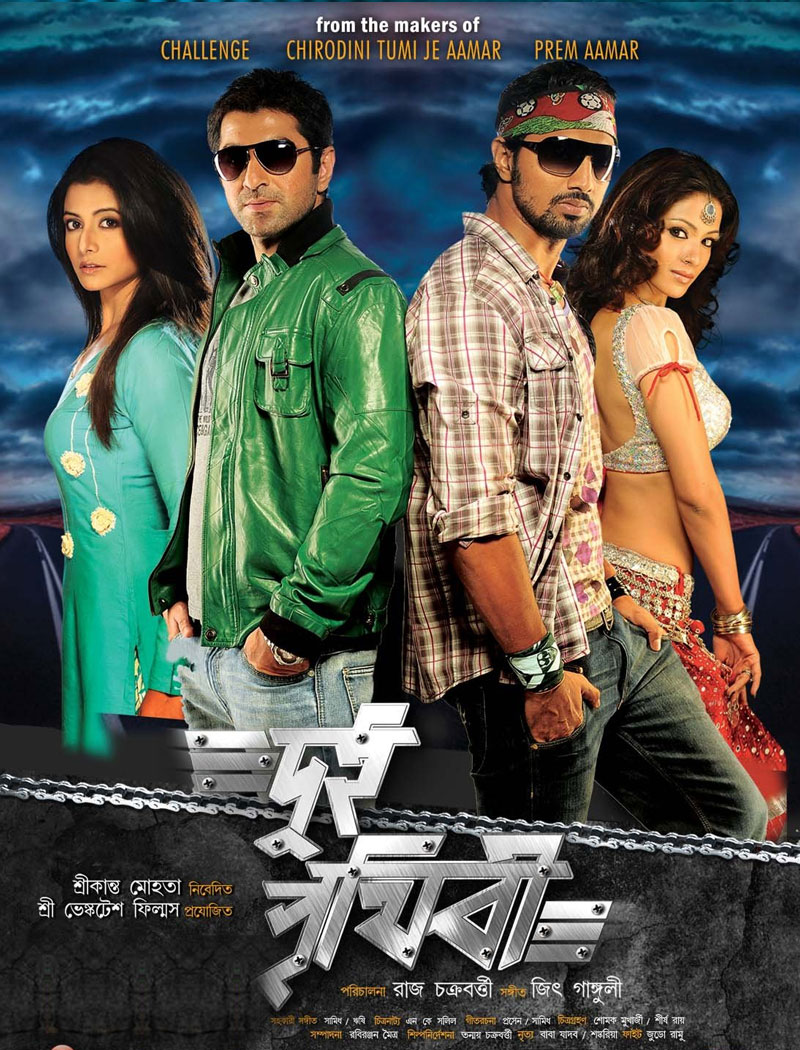 Rahul Roy, (Jeet) as called by his friends and family, is the son of a multi-millionaire called Arup Roy (B.D.Mukherjee). He is born and brought up in comfort and luxury and for him life is just a game and he is accustomed to lavish lifestyle. He is portrayed to be a happy go lucky character and quite popular with the female kind. He comes across Nandini (Koel Mallick), a young & charming doctor. Rahul challenges his friends that he would make her fall in love within few days. Rahul invites Nandini for coffee after a dance programme and proposes to her.
Nandini, being an orphan, is very kind towards the poor people and is a good Samaritan. She mingles with poor people and provides succor to them. But, being a rich boy, Rahul hates those people. However, Nandini's free-spirited nature takes him very near to her and he develops an intimate friendship. At the same time, Nandini keeps maintaining some distance and does not express her love. Though she likes him, she can't love him for he's not sensitive to the people and things around him. A privileged upbringing makes him myopic to the hard realities of life. By the time, she wants to express her love, she learns that Rahul has challenged his friends about his love and decides to keep herself off.
While dropping her at her hostel on his car after a party, Rahul tries to convince her that he is really in love with her but she does not listen to him. In the process, Rahul has an accident, where a woman dies and her son is orphaned. Nandini survives the accident, while Rahul wakes up from injuries in hospital. After gaining consciousness, Rahul cannot find Nandini and he decides to go in search of her on his bike.
In the process, he happens to meet a motorbike thief called Shibu, brilliantly played by Dev. Though Shibu is a vehicle thief, he is good at heart. The journey Rahul takes changes his life drastically: as he is exposed to the hard realities of rural life and yet its simple joys. The landscapes and the people he meets takes him through an emotional journey that alters his perceptions forever. Be it a teacher (Manoj Mitra) who supports orphan kids, a disillusioned ex-militant (Debranjan Nag), a prostitute who craves for love (Barkha), or his own companion Shibu, they all aid in his journey to self-discovery.
JOSH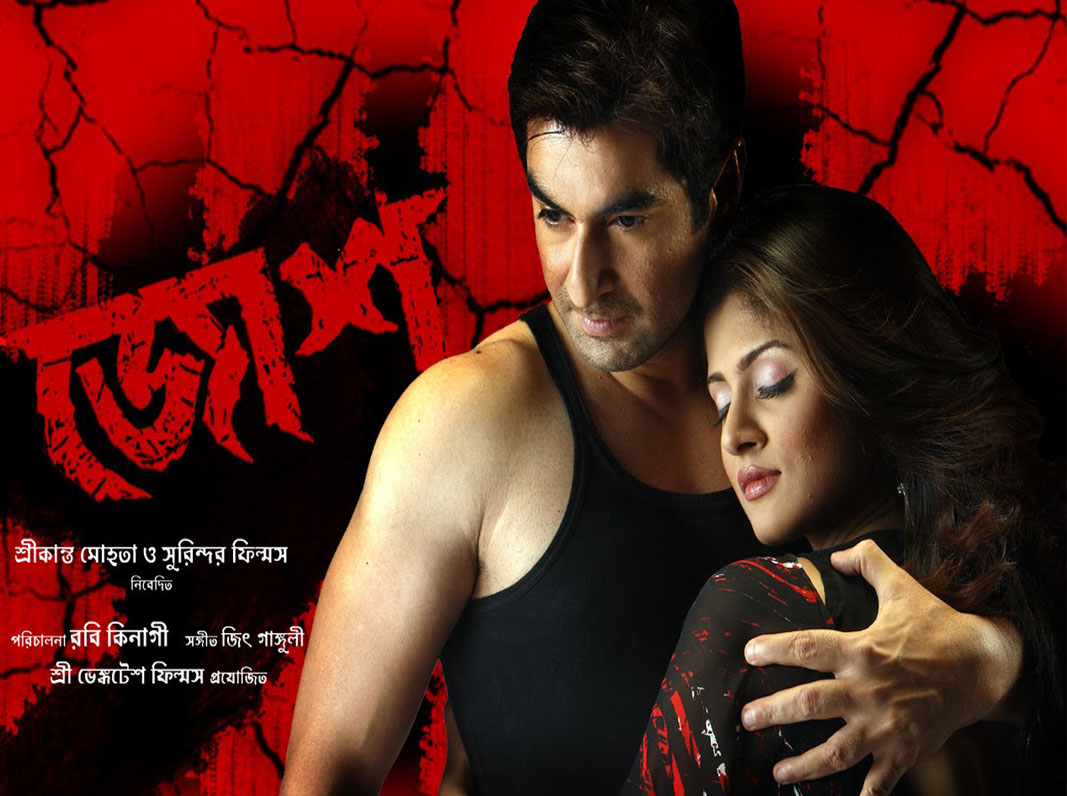 Indra (Jeet) and Rajib (Anshuman) are the thickest of friends studying in the same college. When Indra comes to the city to visit Rajib, Indra notices Rajib's sister, Anu (Srabanti Chatterjee), and is attracted to her instantly. When Rajib visits his home village, Indra visits along with him. Anu, who returns from Singapore, is impressed by Indra, who continually impresses her, based on her tastes. He gets along well with Rajib's and Anu's family, in the meanwhile convinces them that he would make a prospective groom for Anu.
Anu's family, mainly her brother and cousin, are involved in regional gangs in their village. When Anu takes out Indra to the temple for a visit, without the knowledge of their brother (Tapas Paul), Anu is then attacked by Rudra's brother Nikhil (Bharat Kaul) gets hold of Anu and threatens to kill Anu. In a swift action of bravery and skill, Indra knocks down Rudra's brother.
After this incident, Anu's brother, gives Indra a talk about why things are so violent in the village. He explains how he is a masters degree holder from a prestigious university (Pune) and how his wife is also a masters degree holder in integrated mathematics. Unfortunately, due the nature of the villages, the rivalry is deadly and fatal. He ultimately says, even though the villages are violent, he will remain a noble person, with high ideals.
After a few days though, in the most ungrateful manner and a show cowardice, the rival gang fights with fierce brutality, and the rival gang leader Rudra (Puneet Issar) murders Rajib's entire family, except Anu. Indra makes the promise to Anu's brother that he will take up the responsibility of Anu and that he will eventually marry her. In the process, he also becomes a rival of Rudra as he kills his younger brother Nikhil to protect Anu.
After the tragedy, Indra and Anu head back to Kolkata city to attend Indra's sister's marriage. The movie shows the jovial aspects of the marriage ceremonies. At the end of the marriage, an uncle of Indra insults Anu and tells her to leave him and bribes her money to leave. Indra turns furious to his uncle and promised that he will marry Anu, whatever may come. Just as Anu and Indra go out to eat, the original rival gang of Rudra returns and Indra, in a fit of deep rage and anger, beats all the rival gang members, chases them down a few miles. Realizing he left Anu behind, he goes back to find she is gone and then instantly becomes deeply dejected and despondent. This is when his father asks him to tell him what happened. The story he tells his father is the story that is written above.The rest of the film deals with how Indra saves Anu and takes revenge from the goons.
WANTED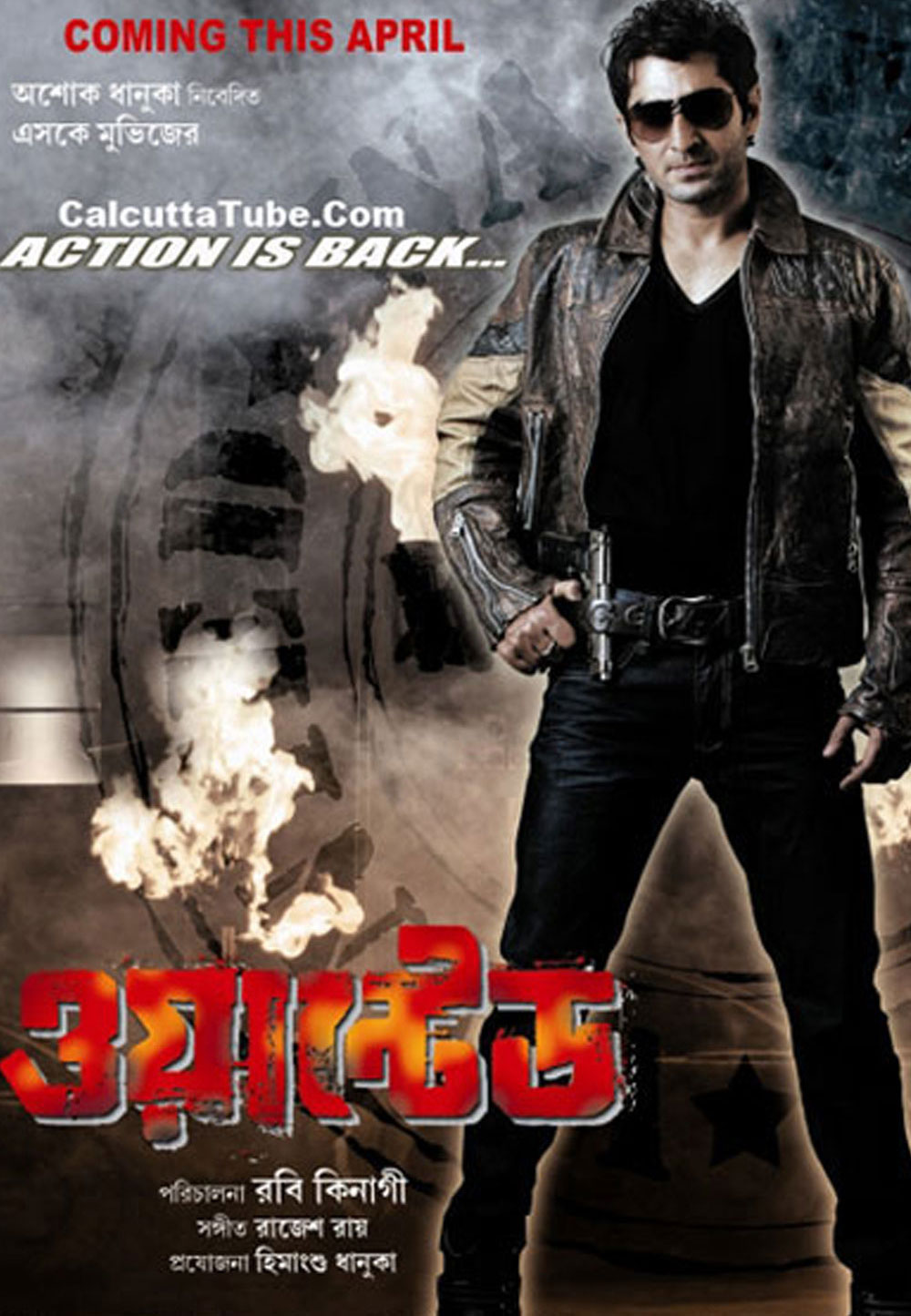 A party leader, Amarnath Ganguly wants someone to attempt an assassination on him so that he can get more sympathy votes in the upcoming election.Amarnath Ganguly's colleague Shubhankar Banerjee(Biplab Chatterjee) hooks him up with Raja for a deal. However, before Raja can shoot Amarnath Ganguly, someone else fatally shoots him. Within minutes, police surround the building. Just before the exit of the building, a big car accident occurs on the street with Raja's car. Raja assumes that Joy got trapped and died in the accident. So Raja goes to the top of the skyscraper. With the police behind him and in front of him, he is helpless. Suddenly a train comes and Raja uses a rope to jump from the skyscraper to the train.
On the train, Raja meets Shibu (Atanu Mukherjee). Shibu reveals that he ran away from his village, Ganganagar, when he was young, he explains that he is finally returning to his village. Later that same evening, while aiming for Raja, the police accidentally shoot Shibu. Raja escapes and decided to go to Ganganagar. Thinking that Raja is Shibhu, his family accepts Raja into their family.
Meanwhile, a CBI officer, Salim Ali Khan (Sharad Kapoor), investigating the murder of Amarnath Ganguly comes across Raja alias Shibu. He suspects Raja of Amarnath Ganguly's murder.He tries taking Raja's fingerprints unconventionally but Raja outsmarts him. Soon clues lead to Joy but he is dead.
Meanwhile, in Ganganagar, after the marriage of the granddaughter was over, the CBI come because they find out that Raja is not Shibu and suspect that Raja is the killer. Raja learns of the situation and flees. After the CBI leave, Raja returns to explain everything: who is he and how the real Shibu was killed. At first the family shows no interest in helping Raja to find the real assassin as they are all shocked but the grandfather (Biswajit Chakraborty) helps Raja by giving him a gun. Raja calls Shubhankar Banerjee and demands to know who killed Amarnath Ganguly. At first, Shubankar Banerjee refuses but after Raja tells him that he recorded their first conservation on the phone,Shubankar Banerjee reveals everything. It was Joy who killed Amarnath Ganguly for Rs. 20 million. He faked his death by sending a drunkard in the car at the time of the accident. Raja records this conversation and immediately leaves for the old church, where Joy is. Raja and Joy meet and Raja has the gun loaded before Joy. But the same policemen who killed Shibu barge in. Raja manages to kill all of them and also kill Joy. Raja hands over the recorded cassette to the CBI officer. The CBI officer goes directly to Shubhankar Banerjee's office and tells him that he will hand him over to the police. Shubhankar Banerjee tells him that he has no concrete evidence. The CBI officer tells him that the tape is evidence enough for Amarnath Ganguly's hot headed son,who has vowed vengeance for his father's death.Trapped without any recourse,Shubhankar Banerjee commits suicide. In the last scene, Raja immerses Shibu's ashes and the CBI officer lets him go to Shibu's family, where he stays forever.
NIL AKASHER CHANDNI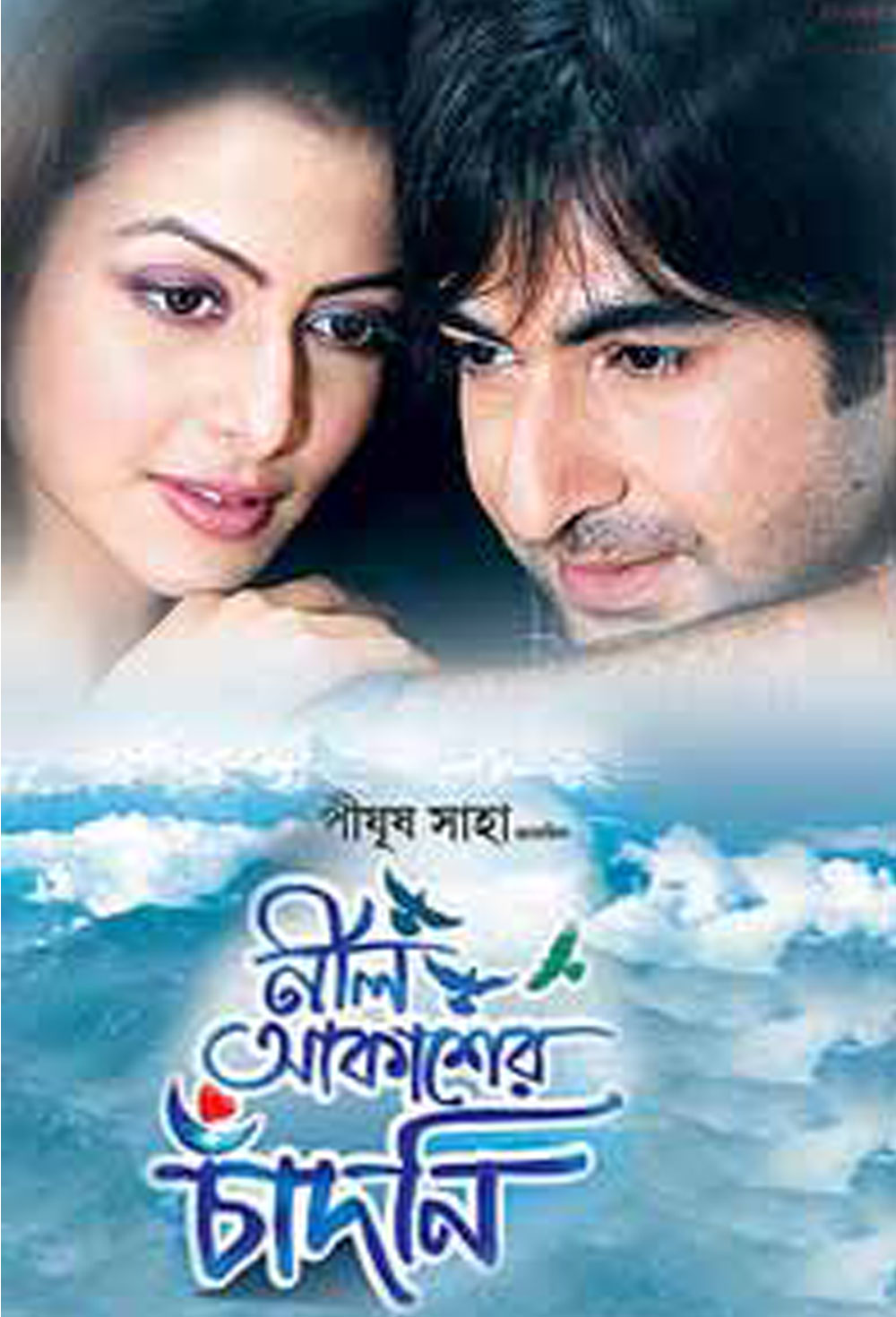 Chandni (Koel Mallick) is the daughter of (Ranjit Mallick), a renowned proponent of Indian Classical Music.
Into this carefree life enters Akash (Jeet), a boy of parentage who wants to grasp the intricates of Indian Classical Music under the guidance of Pandit Darbar. Neel stays with the Darbar family, and Chandni is asked to vacate her room to give the guest the nicest room in the mansion. Chandni takes a dislike to Akash, and the two keep playing pranks on each other, but soon realise they are in love. Their love blossoms in the Darbar household around weddings, festivals and family get-togethers.
One day the pair are caught rehearsing their wedding vows and dreaming of their future together by Pandit Darbar, who becomes furious with them as he has already planned Chandni's wedding with Neel (Jisshu Sengupta). Akash is banished from the household as Darbar has quit singing because of Chandni being impure. As contribution to a teacher, Akash is asked never to meet Chandni again. Akash does not leave India immediately. He stays in town and writes letters to Chandni asking her to join him, but his letters do not reach her in time. Chandni reluctantly goes through the marriage with Neel, who had fallen in love with Chandni during her cousin's wedding.
On the wedding night, Neel realises that Chandni is not behaving sane and tries to ask her why she is not responding to his love. He asks her for the truth, promising he will help her no matter what. Chandni doesn't reply to him which angers him.
Neel soon catches her reading love letters by Akash. Neel is rudely shattered and drags her back home. At first he is extremely furious because Chandni hasn't said the truth. Since his wife is in love with another man, he shows ultimate love and wisdom by taking Chandni to Italy, in search of Akash, to the initial dislike, but eventual approval of his own parents.
Chandni and Neel arrive in Italy, but always come up against dead ends, searching for Akash. During their search, they face many problems and dilemmas and slowly Chandni gets to see what Neel really is like. She sees Neel selflessly devoting himself to caring for her during her stay in hospital after a gunshot. Eventually they get news about akash through his mother , and Neel dutifully arranges for their encounter on the night of Akash's debut concert. His job done, Neel bids goodbye to Chandni and walks away, a heartbroken man.
SAAT PAAKE BANDHA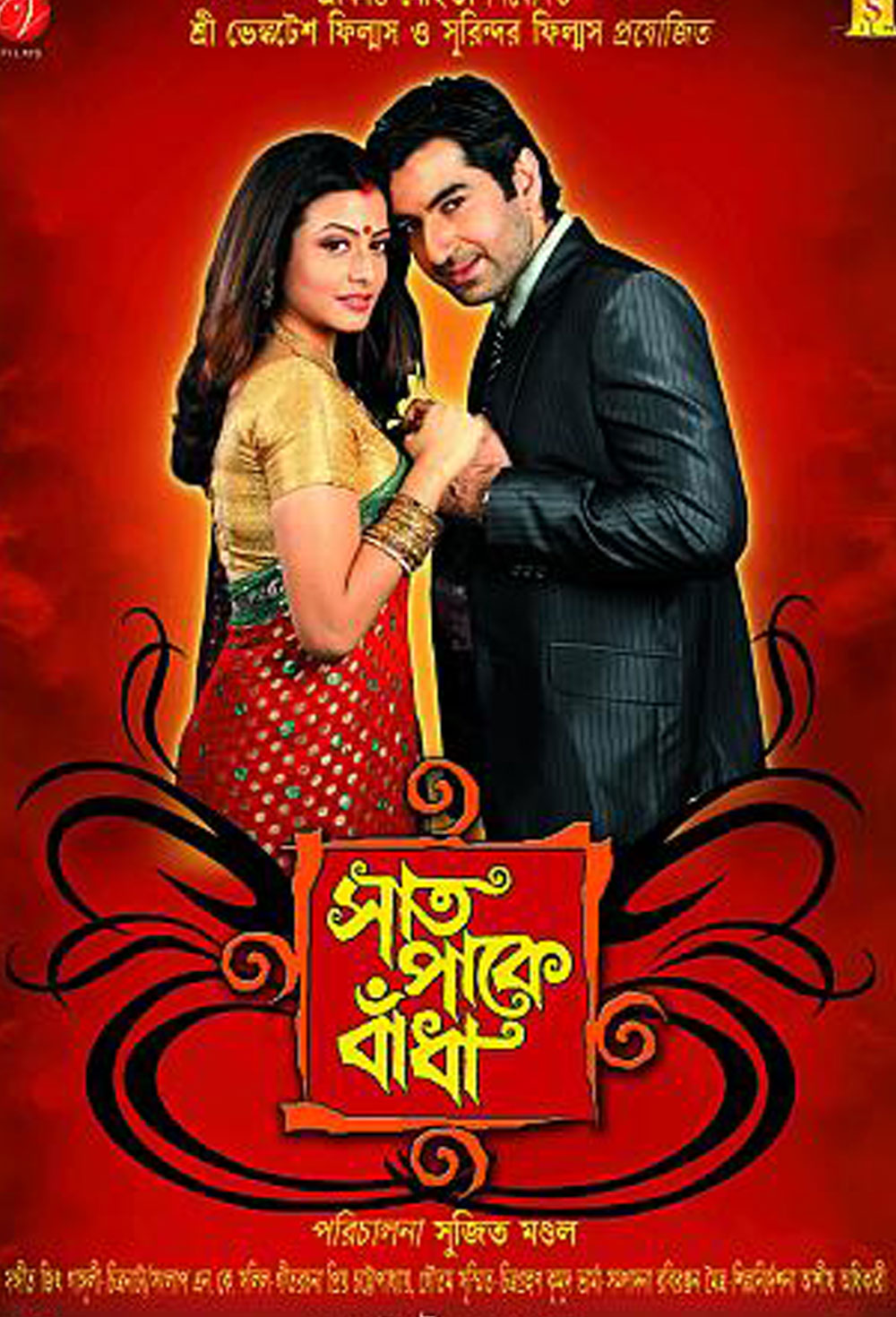 Rahul (Jeet), the son of a wealthy but traditional industrialist, returned home to his father after completing his academic career in foreign lands. When the father tries to persuade him in his marriage he puts up a fantastic condition - that he will marry the girl of his father's choice and will live as married couple for one year only, after which, if either of the two seems to feel distant from the other, the marriage will be called off. Surprisingly, the traditional father agrees and chooses Pallavi (Koel Mallick), his PA as the most appropriate bride.
Now Pallavi's family consisted of her widowed mother, an elder sister deprived of her husband, a younger brother not at all competent for any job, and the youngest sister getting pregnant with the boyfriend trying to avoid responsibilities. So Pallavi, just to save her family, accepted the contract much against her wishes and thus began a curious way of life with both of the wedlocked couple leading an unreal lifestyle.
Though both shared the same bed, but Rahul seemed to be oddly insensitive to Pallavi's emotions. Thus it was not strange that he never cared to celebrate Pallavi's birthday and his scathing remarks while appreciating Pallavi's cooking hurt her feelings and duty seemed the only virtue that kept Rahul any closer to his wife. But the artificiality of the story is vividly brought to fore when Rahul, after quickly recovering from a comatose condition, chiefly due to Pallavi's sincerest nursing, doesn't hesitate to declare that the next day is the end of their contract term when he will be willingly divorcing Pallavi. Well at this point if the audience thought that the story is nearing a tragic completion, it is only the Intermission that is declared.
In the second half we see that the table turns as Rahul suddenly feels sympathetic to Pallavi and all his passions overwhelms him so much that he rushes to his in-laws' house and requests Pallavi's return. But no says the director, and the story goes on with Pallavi now rejecting all the ardent proposals of Rahul, be it him buying all the shares of Pallavi's new struggling organization just to secure for himself the position of Pallavi's boss. Surprises seem to be on store for the audience with Pallavi conceiving a child (just imagine that Rahul was in comatose for a pretty long time and the day he recovered, the couple separated) and now Rahul, in sympathy arranges for an AC bus for her and shifts her office to the ground floor. Now the only thing that remains is revelation and Pallavi invites and insults Rahul in one of the most improbable of settings with Rahul sophisticatedly defending his views.
Finally after all these, the two again reunites in hospital bed after the severely injured Rahul takes Pallavi to the maternity ward (it is clearly indicated in the picture that Pallavi was less than seven months pregnant though she suffers serious labour pains and again when the baby was delivered no sign of immaturity is ever observed) and they celebrate the simultaneous delivery of the child and Rahul's recovery from his critical condition. Thus family ties are again restored and the happy ending is guaranteed.
HASHI KHUSHI CLUB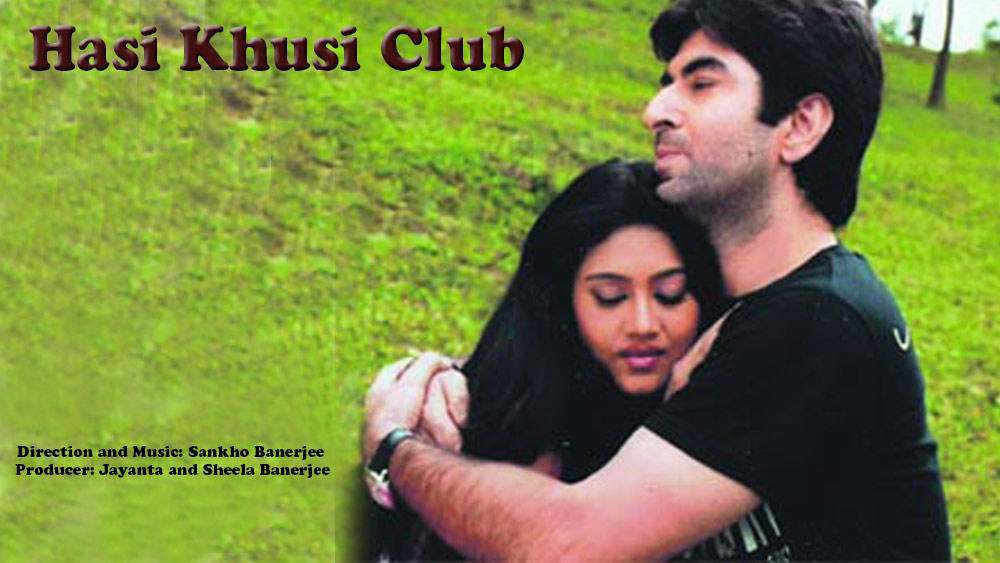 The film covers a span of a few days — beginning before Independence Day and reaching its climax on D-Day itself. Anikit (Jeet), a talented singer and a simpleton, lands himself in trouble when a stranger takes shelter in his house along with her child. What follows, is a series of lies by Anikit and room-mate Kobi (Biswanath), only to cover up the incident. The actors, who stand out are Biswanath, who tries to do an Ustad Zakir Hussain act, in search of his muse, Papiya Adhikari as the neighbourhood boudi, Biswajit Chakraborty as Mama Sen and Mimi Dutta as Hiya's (Varsha) intelligent sister.
JOR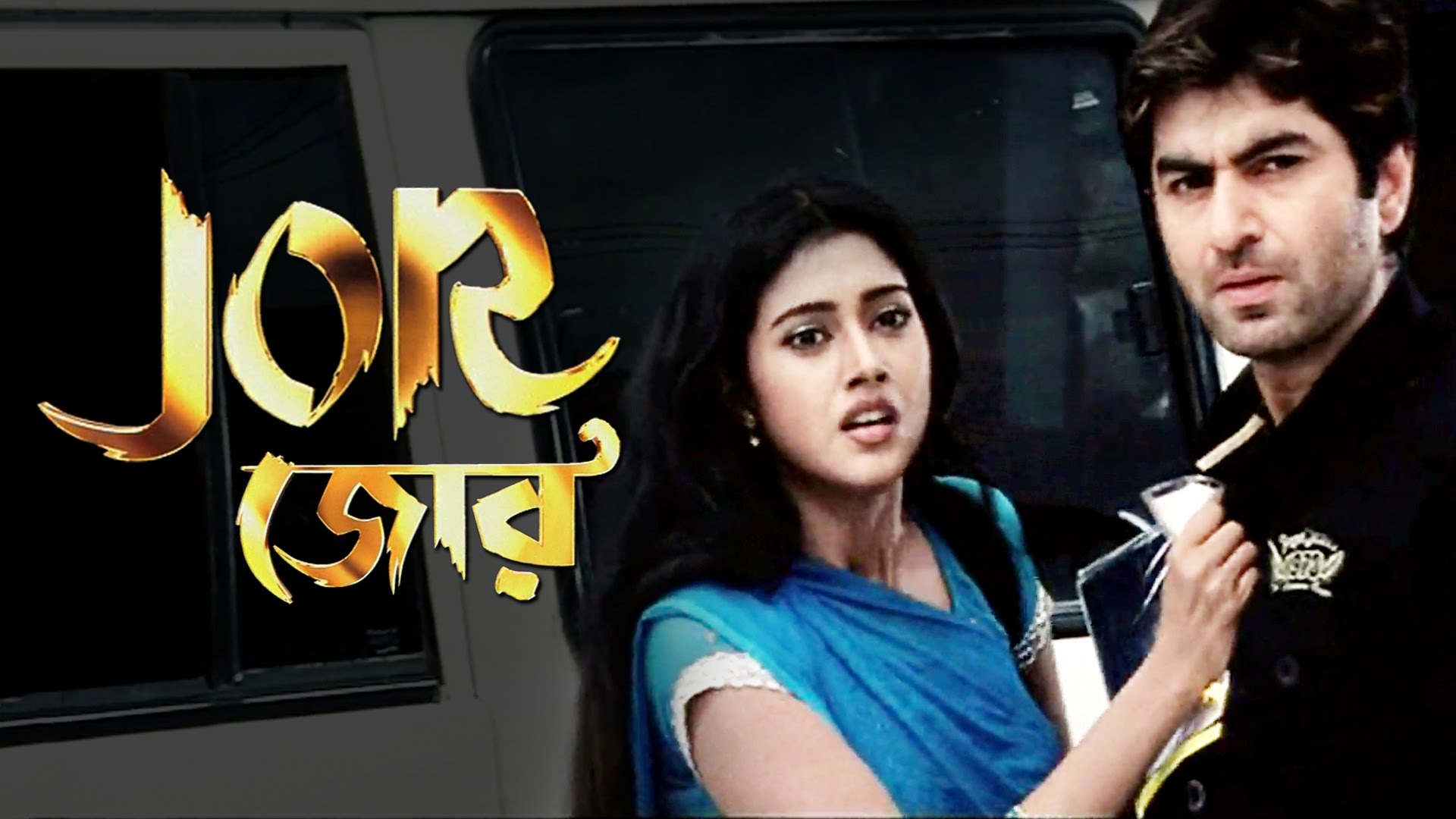 Surja (Jeet) is a sportsman. He loves to run and win championships in Kolkata. Once on a championship tour, he goes to Shiliguri. There he runs into an influential gang leader Indrajit (Subrat Dutta) who forcefully tries to make Sumi (Barsha Priyadarshini) his wife. After some struggle and fights, Surja is able to escape from Shiliguri with Sumi. After coming to his home in Kolkata, Surja hides Sumi from his family members. He attempts to arrange for Sumi's departure to the US where her relatives reside. Indrajit and his goons arrive in Kolkata in search of Sumi. They use their political and social influence to the local police who locks up Surja. Eventually, Surja makes the police officer understand that he loves Sumi and he lets him go since the police officer is an old friend of Surja's father (Deepankar De). Surja arrives to get Sumi back from Indrajit's house. Meanwhile, Indrajit's goons go to Surja's home and kidnap Surja's sister. Surja eventually fights after his father gives him permission to fight for good cause. Indrajit dies by his mother during the fight coincidentally.
PARTNER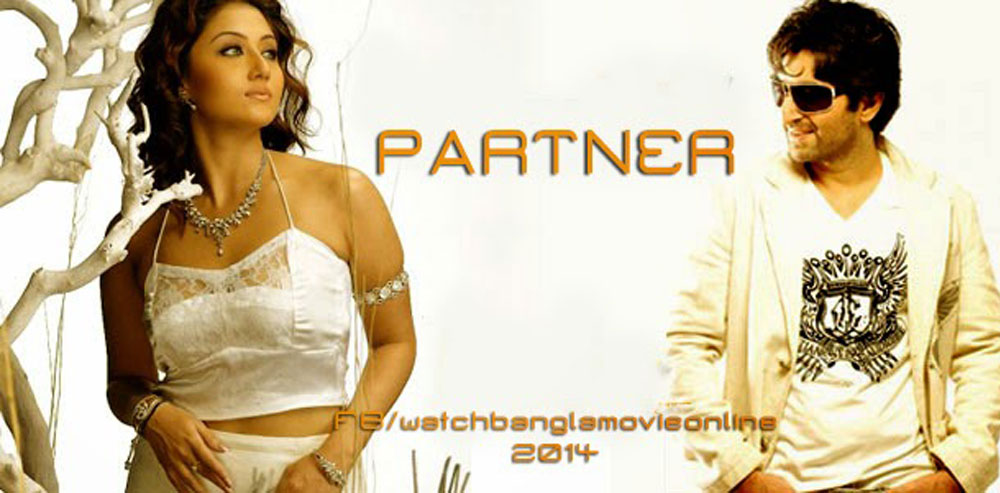 Partner is all about a funny and dangerous contract between two haggards Dasu and Ayan (Jeet). The two met at theSealdah North Railway Tracks while arriving for suicide at the same time. While Dasu (Santu Mukhopadhyay) realising his faults, Ayan (Jeet) remains bent on ending his life. Dasu is a rich man turned poor (after his only son's death) who is constantly truncated by debtors while Ayan is a frustrated rich brat who is devastated after crushing in his business (share and stocks) and being betrayed by his girlfriend Rina. Dasu convinces Ayan not to commit suicide at the heat of the moment when Ayan still insists to die Dasu sorts out a peculiar contract between themselves. He begs Ayan to die exactly after three months. This is because Dasu, who is a part-time insurance agent, wants Ayan to buy a life insurance policy which would mature after three months. Dasu, meanwhile would pay the premium of 10 thousand rupees by any means whatsoever and after three months when Ayan would commit suicide Dasu would get the entire value of the insurance policy (Rs. 10 lacs) as Ayan's only nominee. Ayan evaluates Dasu's proposal and thinks to make some penance for his sins before his death. Ayan starts living in Dasu's residence for the next three months. Meanwhile Ayan falls in love with Dasu's only daughter Priya (Swastika Mukherjee) and Ayan's father Ramen Roy appoints his brother-in-law Gobordhan Ghoshal (private investigator, played by Kharaj Mukherjee) to find out his missing son. After lots of fun, frolic and confusion Ayan is barred by Dasu from committing suicide. Dasu's debts are cleared by the hearty Romen Roy while Ayan marries lady love Priya.
BIDHATAR LEKHA
Jeet along with his friends comes to darjeeling and meets a girl, they find a connection everytime they meet each other as if they have met each other before. Then we come across priyanshu, the owner of a tea garden who is surprised at seeing both of them together one day. In the flashback we find jeet and hrishika bhatt are good friends and love each other, one day priyankshu sees hrishita and falls for her. He then kills jeet to get her and eventually loses hrishita also as she kills herself. Later these two reborns and meet each other and remembers their past and kills priyankshu.
KRISHNAKANTER WILL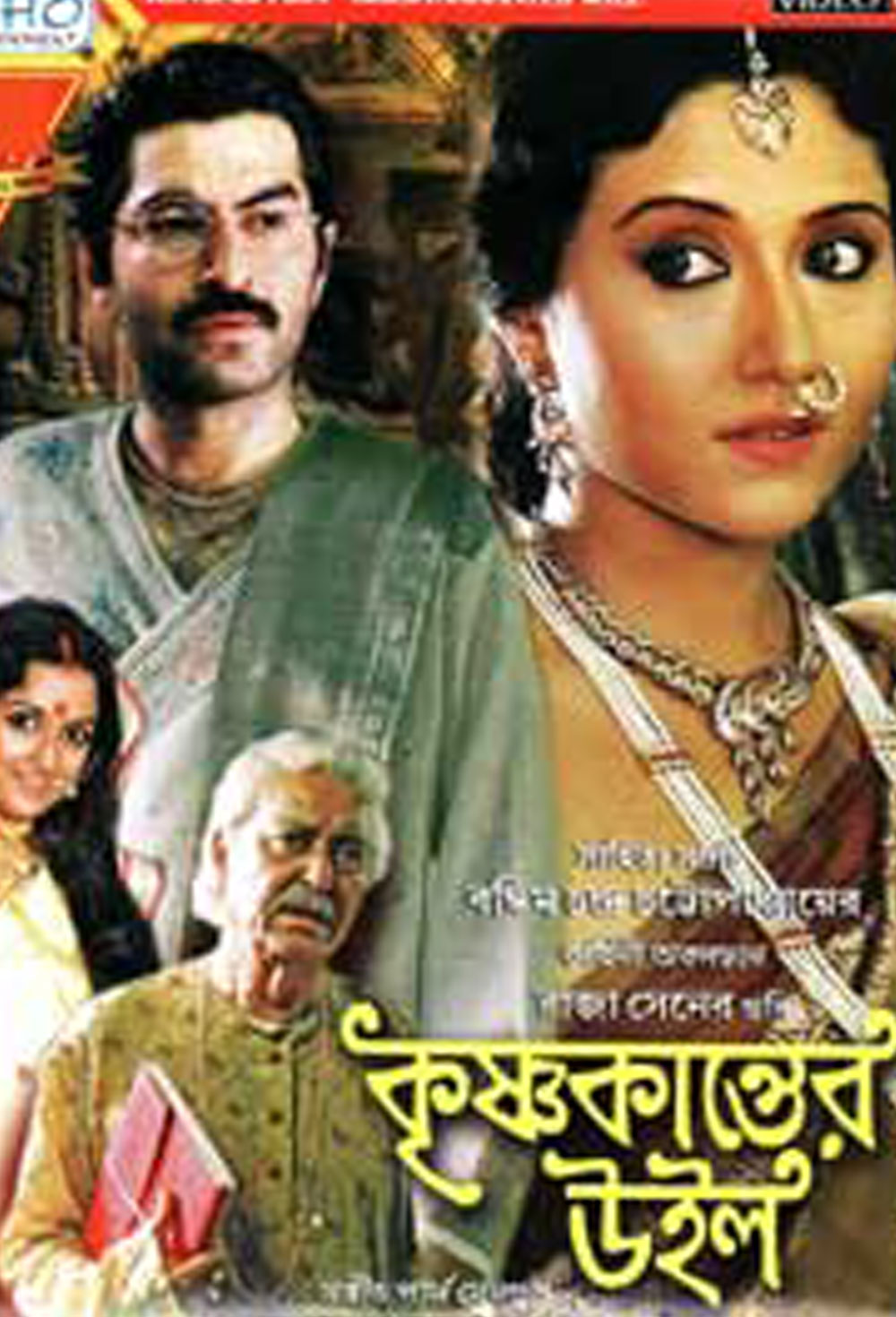 Ramkanta Roy, Gobindalal's father, died when Gobindlal was very young. He was brought up his uncle Krishnakanta Roy. Krishnakanta had two sons- Haralal and Binodlal. When Haralal came to know that his father had made will and in that will he would have a share of only 20 percent, he became mad, as Gobindalal would enjoy the 50 percent share. He arranged a fake will and make Rohini, an orphan widow, agreed to change the original will by the fake one, when Krishnakanta would be asleep at night. Rohini wanted to do that as Haralal promised to marry her. Apart from that she was indebted to Haralal as the saved her once in the past. But when Rohini learnt that Haralal won't marry her, he decided to put the back the original will in its place and burn the fake will. But during doing that she was caught red-handed by Krishnakanta. Goibndlal was married to Bhramar. He pardoned Krishnakanta. To release Rohini from her charge. Krishnakanta on request did that, but Gobindalal fell in love of Rohini. Bhramar came to know about the relationship between Rohini and Gobindalal. She decided to leave the house and go to her father's house. Before death, Krishnakanta changed his will again depriving the share of Gobindalal and gave it to his wife Rohini. Gobindalal left the house and started leaving with Rohini. Bhramar came back and learnt that her husband Gobindalal was staying with Rohini. Bhramar fell sick. Bhramar's father took the help of his nephew Nishakar to break the relationship between Rohini and Gobindalal. Nishakar became successful in doing that. Gobindalal killed Rohini. When Gobindalal came back to his house Bhramar was about to die. After Bhramar's death Gobindalal left his house again.
KRANTI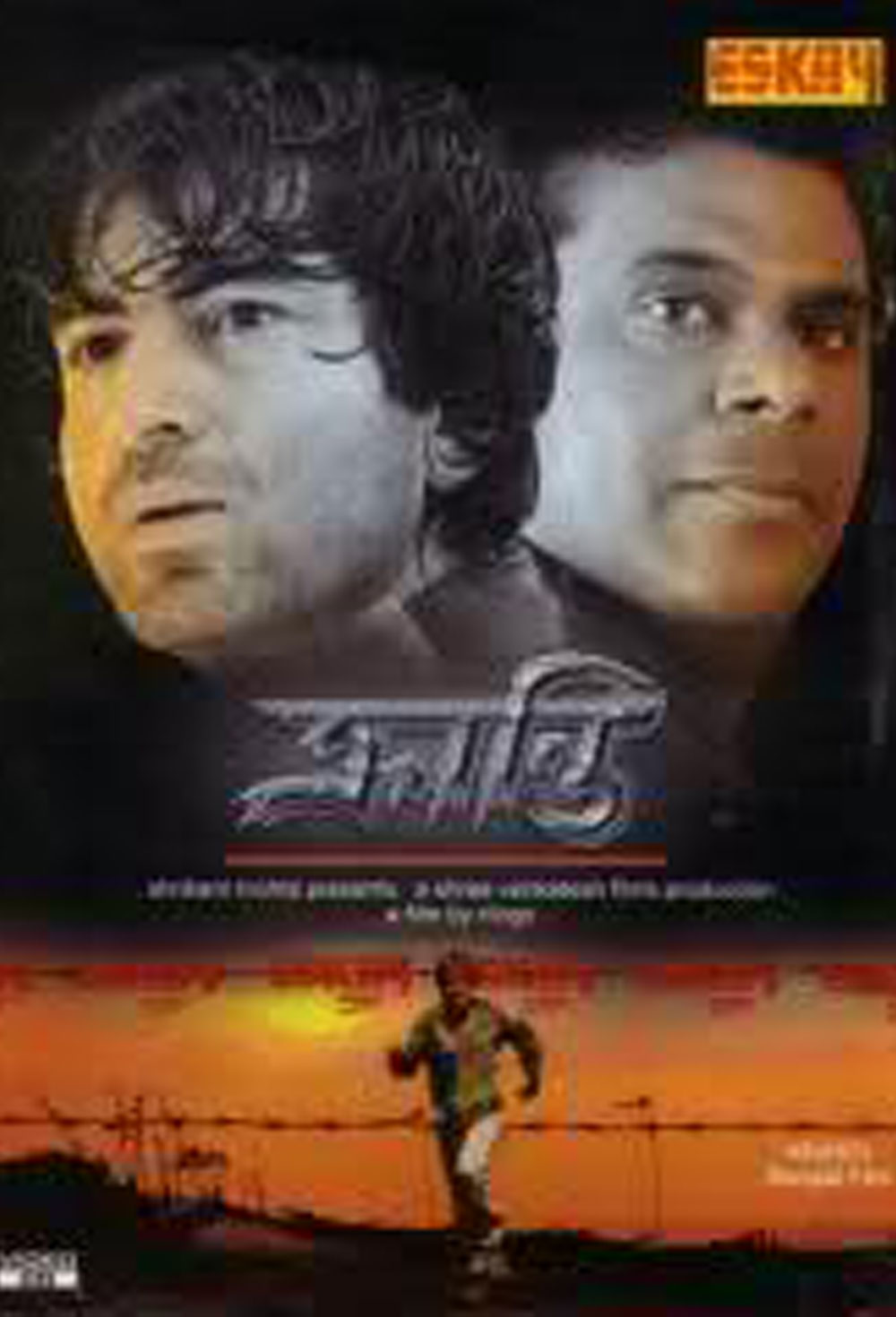 Jeet (Jeet) is a student whose family, consisting of his parents and elder sister Devashree (Locket Chatterjee), migrated to the city. Since their arrival, they have to struggle among-st the crowd to exist. People of the city fear Vishnu (Ashish Vidyarthi), the local don. His younger brother Deva (Rishi Kaushik) studies in the same college as that of Jeet. Deva's gang in the college are the biggest troublemakers, who tease girls and pass bad comments at them. Jeet, who tries to handle the situation, clashes with Deva's gang for a number of times and beat his gang members.In order to take revenge, Vishnu's goons rape Devashree, kill his intimate college friend Iqbal (Biswanath Basu) and finally kill his father (Bodhisatwa Majumdar). A helpless and heartbroken Jeet is left with nothing, but only a strong desire to punish the wrongdoers. He becomes determined to kill Vishnu. In the end, Jeet is successful in killing Deva and Vishnu, thus fulfilling his revenge.
PITRIBHUMI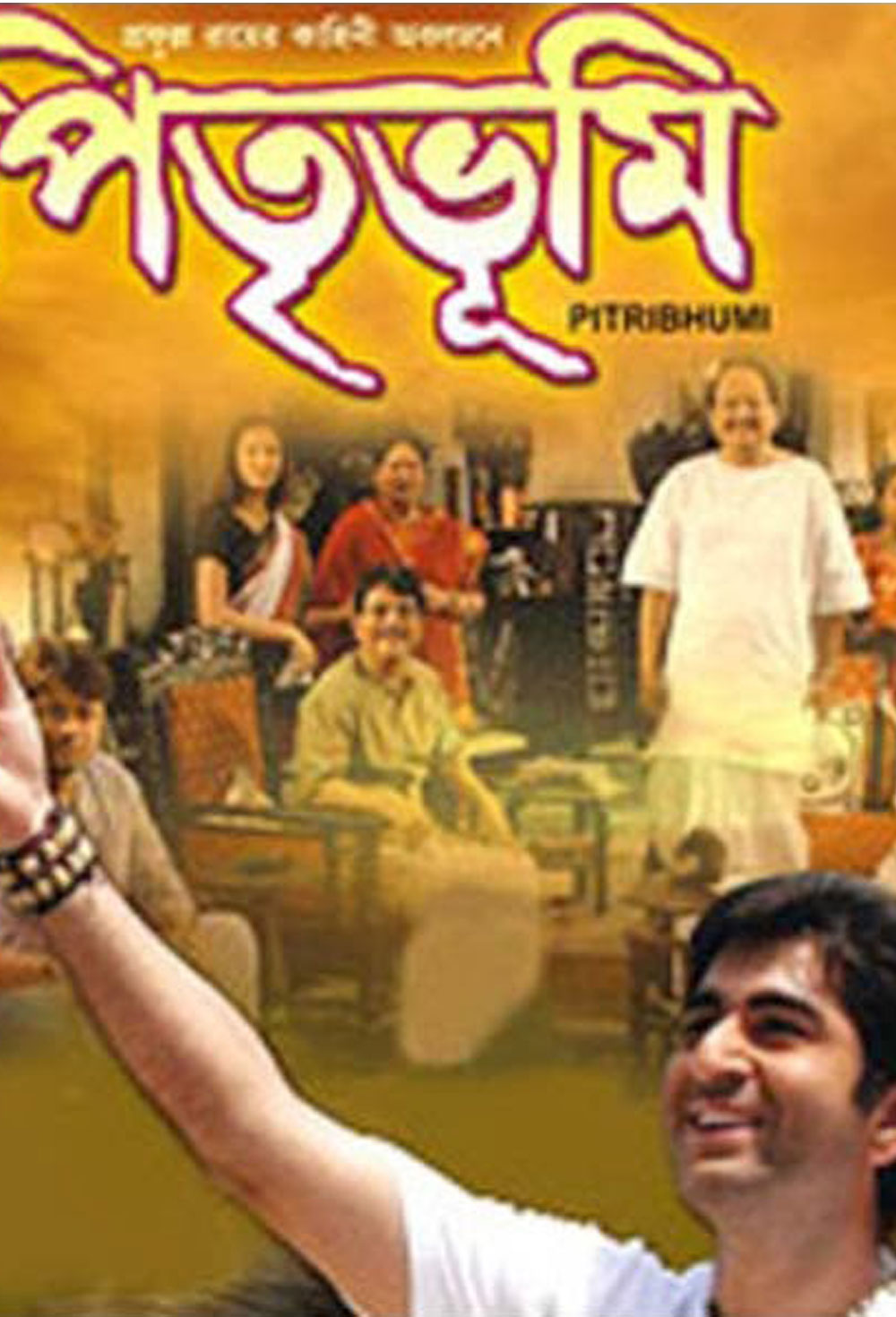 Jeet returns from abroad on behalf of his father to sell of his ancestral house. After coming to kolkata, he finds the real character of his relatives, who actually live a lavish life doing nothing. They care him for first few days, he finds his grandmother who isnt cared by anyone. He then comes across a lady played by swastika mukherhjee who is a social activist. Along with her she tries to solve some family related problems and with time they come closure. And the end it is found that he has solved all the major issues in the family and returns back .
GHATAK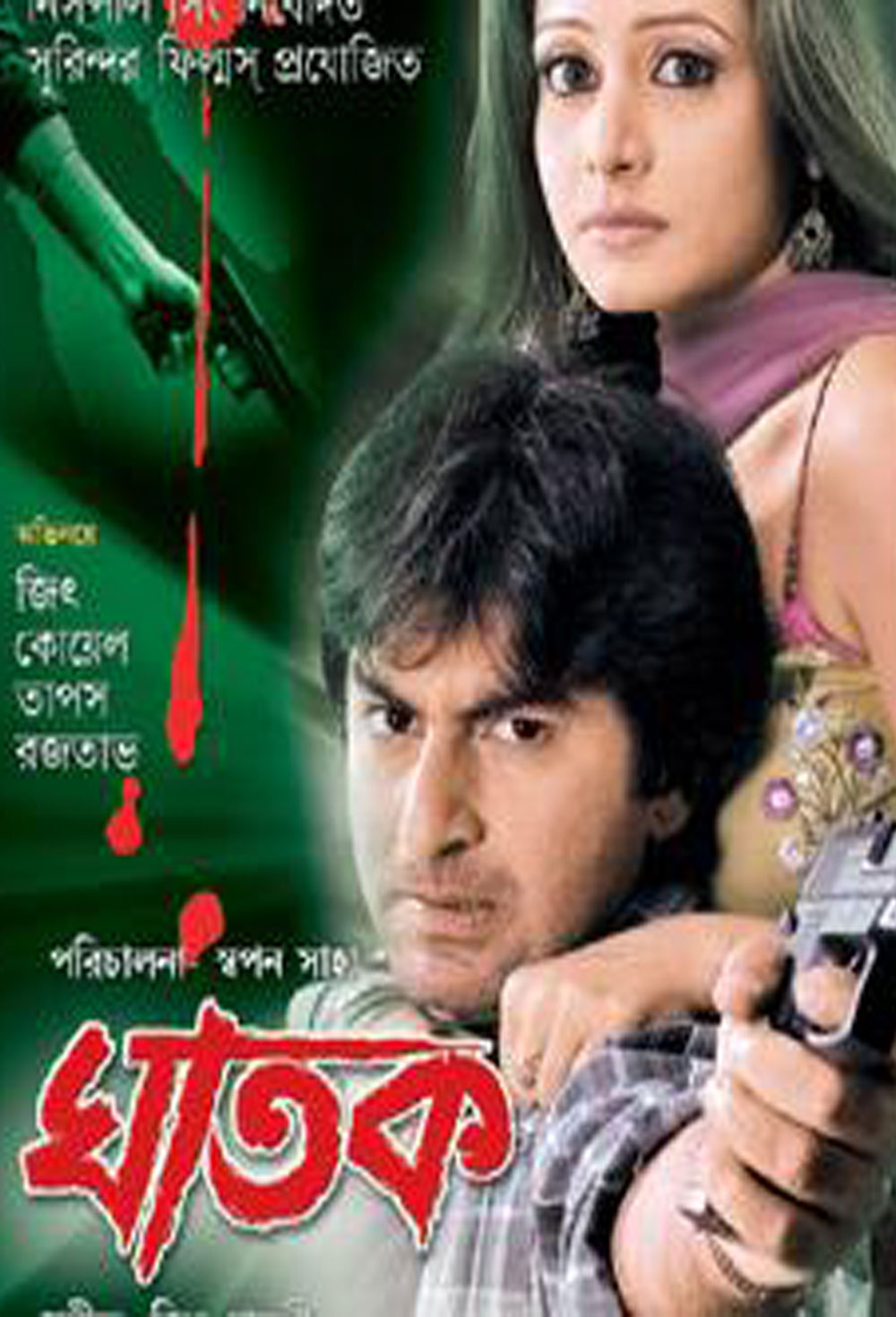 This is a story of a simple innocent guy Bijoy (Jeet). He came to Kolkata with his brother.Suddenly Bijoy met with Puja (Koyel Mallick). Koyel gave shelter to them. Bijoy admited his brother to Puja's school with the help of Puja. On the other side two antisocials, Bablu Koley (Shankar Chakroborty) & Bindu Masi (Anamika Saha) contest each other. They are campaigning for vote . Binoy Samanta (Rajatava Dutta) supported Bablu for election. Puja's father Sattabroto Roy (Bodhisatto Majumdar) threatened Bindu Masi. Bindu Masi killed Sattabroto. Bijoy's brother Raju was the only witness of this murder. Puja adviced Bijoy to leave the place, but he did not agree. Binu Masi & Bablu Koley tried to kidnap Raju. Raju died . Munna was arrested by Ranabir Roy (Tapas Pal). But Bindu released her brother. Ranabir was suspended. Bijoy killed Munna. Bijoy married Puja. Bijoy killed Bablu Koley. Bindu masi tried to kill Puja, but Bijoy saved her. Binoy told the truth to the press, and Bindu masi killed Binoy. Bindu masi tried to kill Bijoy but Bijoy killed her.
HERO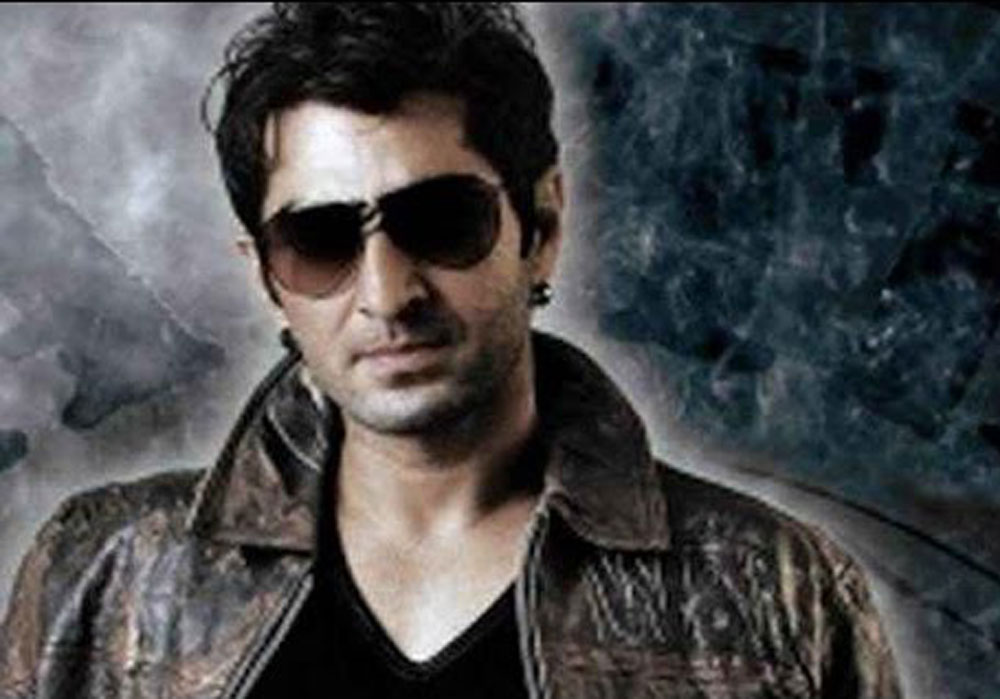 Shubhankar Roy (Jeet) was a college goer. He was the son of head constable Bhabani Shankar Roy( Rajjak) who was a very respectable person. Shubhankar was very arrogant and fell foul with some antisocials. They attacked him and Puja ( Koyel Mallik) took him to the hospital. Shubho fell in love with Puja. Puja was the sister of police superintendent Indrajit Sen( Tapas Pal). Puja told her brother about Shubho. Shubho was threatned and beaten by Indrajit but Bhabanishankar opposed him. Indrajit hired an antisocial Baburao to kill shubho, but accidentallly Puja was injured and Shubho hospitalised her. Puja also fell in love with Shubho, Indrajit did not accept their relation and tried to kill Shubho at any cost. But with the hepl of Madhabi ( Laboni Shankar) and his friends they escaped from the house. Baburao harrased them but ultimately Indrajit accepted Shubho and Puja's relation and they got married.
PRIYOTAMA
Akash Roy (jeet) is a manager in his ad agency. He despises women and feels that all women are traitors. Akash's uncle , who is the chairman of the ad agency, appoints a assistant manager. Though Akash does not like a girl joining his company, he has to live with it as the appointment is made by his uncle. He starts mistreating her., submits her resignation to his uncle, who then narrates Akash's past to Her.
Akash was born with a golden spoon. He was raised by his grandfather as his parents died soon after Akash's birth. Akash falls in love with Swastika Mukherjee, who is the niece of an employee in Akash's grandfather's company. Alarmed by this, her uncle takes her away to his hometown and arranges her engagement with another man. Akash travels all the way to the venue and takes her away. While returning, they meet with an accident. After 10 days, when Akash comes out of the coma, he is told that she is about to marry some other guy. Shocked by this news, AKash develops hatred towards women. After narrating the flashback, Akash's uncle promotes her as the Manager and demotes Akash to the post of Assistant Manager. Although Akash resents this, he travels to Paris with her for a business venture. While there, he falls in love with her. Problems soon arise, and when they return, she is arranged to marry another man. However, Akash realizes his true feelings for her at last, and they end up together.
SAATHIHARA (2006)
JEET a perfectly cast as the romantic, droopy-eyed guy with a tormented past, who is brought down from the hills to the proverbial big, bad city life where his life gets tangled between his trying to prove his worth as a music composer, and his two heroines, Swastika and Meghna. Jeet lapses into his memory loss state which he recovers soon with the help of music .
MANIK
Samir Mitra is an unemployed educated guy who is looking for a job. His father Abir Mitra is a retired person. Samir's mother is suffering from cancer. One day Samir suddenly meets Manik Chandra Sadhukhan. Manik's father is Niranjan Sadhukan, he is also ill. Latika is Manik's younger sister. Manik has come to Kolkata to meet his father's friend Chandrakanta Majumadar who is an established businessman. Manik meets with an accident on the way. Samir tries to save his life. Before his death Manik requests Samir to take care of his father and younger sister; he also tells Samir not to disclose the news of his accident. Manik gives Samir all required information. Samir becomes Manik; he meets Chandrakanta as Manik. Chandrakanta appoints him in his own office. Samir meets Chandrakanta's daughter Ria and wife Manju, Ria and Samir gradually fall in love but Samir feels uncomfortable whenever he thinks that when everybody will come to know the truth that he is not Manik then what will happen. From his salary he maintains his own family and Manik's family. Everybody is impressed with his behavior and honesty. Suddenly Niranjan and Latika come to Kolkata because Niranjan is unwell. Niranjan has lost his eyesight and there is some problem in his heart also. Samir tries to hide from Niranjan but every body comes to know the truth. Kartik Sen, the business rival of Chandrakanta, kidnaps Ria and demands ransom. Samir and Chandrakanta rescue her with the help of police. Samir donates his father's eye to Niranjan. Niranjan gets back his eyesight.
SUBHODRISTI (2005)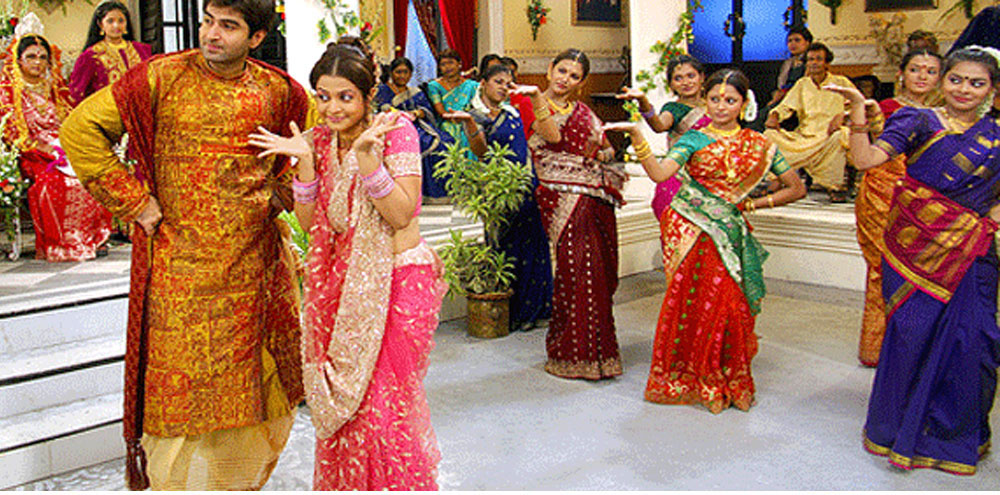 This film is mainly a marriage based film , arun( jeet) meets his love interest on a marriage occasion of his brother barun, his love interest played by koel is actually his elder brother's sister in law. Their relation blooms with the marriage and afterwards and both families get to know about it, all agrees and fix up their marriage. On the marriage day arun suddenly falls ill, which everyone things a prank. Later it is found that arun is suffering from brain tumor. The marriage is interrupted. Later koel goes to meet his husband and completes the sindur ceremony in their room where arun again falls unconscious. He is then operated by doctors and he is cured. The marriage is completed with all smiles around.
YUDDHO (2005)
The story revolves around police officer Agnishwar Rai (Mithun Chakraborty), who keeps getting transferred due to his aggressive nature towards criminals. He ends up at Utarpara police where young boy Surja Sinha (Jeet) is the local tough guy. A girl is raped by the younger brother,Ranjit Saha (Bharat Kaul), of the local MLA named Joy Chand Saha (Rajatava Dutta). Agnishwar arrests Ranjit. To take revenge, the MLA gets Agnishwar put in prison and his wifeDeboshree Roy murdered. There starts Agnishwar's revenge where he slowly kills all the persons responsible for putting him behind bars and killing his wife, ending with the death of the MLA and himself at the hands of Surja, who became a police officer.
AAKROSH (2004)
This is Jeet's first film as an action hero. He is a young man who joins the underworld to seek refuge from unemployment. He has left for Singapore for better job opportunities. From Singapore he regularly sends money home in order to support his family .He loves Abhi immensely and wants to take him to Singapore so that he can get a job there .However because of Abhi not having a passport , he is unable to go. Abhi's brother comes back from Singapore on the day of a bandh and comes to know that Abhi is barred from entering their house by his mother though they do stay in touch. In the meanwhile Abji meets and falls in love with Nandita (Rituparna Sengupta ), a social worker who is his neighbour .The two gangs constantly clash with each other and Kalika Prasad's gang wants to finish off Abhi at any cost. Abhi's sister-in-law is molested by a goon and is saved from graver consequence by Ahmedbhai and his gang. Nandita goes to Abhi and asks him to quit the underworld but Abhis is reluctant and asks Nandita to go back. Meanwhile Abhi's elder brother is able to organize a passport though he has a criminal record. On the day of their departure, Abhi's mother is murdered by Kalika Prasad's son Durga Prasad after she boards an an autorickshaw to go to the airport. Abhi's elder brother and other family member desperately try to conceal the truth from Abhi. He is taken to the airport though he senses that somethIng is wrong. He borrows the mobile phone of a fellow passenger and comes to know the truth from his nephew. Abhi returns home and takes revenge by killing Kalika Prasad and his gang with Ahmedbhai. He completes his mother's last rites and leaves for Singapore with his elder brother taking a photograph of their mother along with them.
BANDHAN
The story is one of the pivotal characters, Mina narrating the story so far and introducing the family members to the audience. Mina is no more. Her husband Rohit and son Rony live in Singapore, but they have no contact with Mina's family because Mina had married against her family's will. Presently, Chumki, Mina's cousin is to get married. Her mother Sabitri Devi and most of her family wants Rohit to be a part of the wedding but her father is against it. However Sabitri Devi is stubborn and ultimately succeeds in being able to invite Rohit for the wedding. Rohit is welcomed by the entire family except Pratap Narayan and his son. Rohit is constantly humiliated by the two of them but he doesn't lose hope and does not get hostile. He also explains to Rony as to why he is unwanted in the family. Meanwhile, Mina's twin sister, Rina comes home. Rony looks up to her as his mother while Rohit and she get closer. Rohit and Rony are slowly accepted by Pratap Narayan but things complicate again when Rina's marriage is fixed elsewhere. Rina insists on marrying Rohit but he does not want to face the family rejection again. In the meantime, a letter written by Rina and addressed to Rohit falls into Pratap Narayan's hands and he drives Rohit out of his house again. Things finally are settled and Pratap Narayan goes to the station to get Rohit back.
MASTAN
The film revolves around the life of Raju (Jeet), a poor boy whose mother dies of starvation. He is taken under the fold by the local smuggler Bhanupratap. He grows up to become an antisocial and an associate of the smuggler. However, he decides to sever ties with the underworld after he falls in love with Mamata. But his past becomes a barrier in his way as Mamata's father comes to know of their relationship. Ultimately Mamata is forced to marry Avinash, a CBI officer after her father suffers a heart attack. This transforms Raju into a ruthless criminal. Meanwhile Avinash, the husband of Mamata, comes into town. He disrupts and puts a stop to Bhanupratap's smuggling business and he sends Raju to kill him. But raju confronts Mamata who begs him to spare Avinash's life. Raju asks them to leave the city. The train Mamata was travelling in meets with an accident. They lose their child. Raju now turns off from the underworld (as he could not kill Avinash) and finds the child.
PREMI
Rahul and Sumit are best friend and are footballers by profession. To save Rahul from an accident Sumit injuries his leg and becomes unable to play football. Rahul makes a promise to Sumit that he could fulfill Sumit's dreams by becoming a great football player. One day Rahul meets Puja in a taxi and falls in love at first sight. Puja lives with her grandmother and grandfather. Meanwhile Puja also meets Sumit, whom she admires for his strength grit even being an invalid. Puja and her friends go to Goa and there they are joined by Rahul & his friends who had come there for a football match. Both Puja & Rahul becomes friend. But Puja is getting married to somebody else. Puja's marriage is cancelled as somebody accuses Puja as having an affair with Rahul. Puja's grandfather cannot bear this shock & dies. This makes Puja misunderstand & hate Rahul. Rahul tries to help Puja secretly. Whenever she lands in any kind of trouble Rahul helps her and & even steals money from his father to help Puja. Rahul remains in the background & only contacts Puja via letters, where he address himself as a friend. Puja falls in love with this secret friend and is desperate to meet him. On the day of Holi Puja mistakes Sumit, as the secret friend & thrilled with joy she sends a marriage proposal to Sumit's home through her grandmother. Their marriage is finalised. Rahul is heartbroken to see his lady love marrying his best friend but he cannot say anything to Sumit as he is still is indebted to Sumit for saving his life. Puja is angry at seeing Rahul & tells him to stay away from her new life. Finally all misunderstandings are cleared and Rahul marries Puja.
SHAKTI
Shakti is often a sincere guy via their own truly child years. Their own helping fingers is certainly ready regarding needy problems, there's no evasion related to duties in addition to responsibilities inside their living. He is employed just like a new driver from the close by MLA anytime their own father too soon retires on vars. MLA Mr. Ghosal in addition to their own henchmen alter disorderly in addition to assault is surely an inseparable part of individual personality. Shakti raises being very main character image simply because it is follow-up. Nevertheless he displays wish to be able to produce several music indigenously. Consequently he desires to crucial in this world related to tunes. The particular stunning Manoshi stares him inside the experience anytime they might help to make the state introduction combined with the female's. The particular numbers start going to mild, living in addition to id in order to any kind of degree additional. The issue entails your brain each time a laughter related to errors occurs. Manoshi is often a truly powered girl. The lady wishes to become doctor. At this time Shakti entails understand that the lady needs 2 does not have related to rupees simply because entry expenses. In those days she or he appears inside their navicular bone that Manoshi is not perfect for him. She efforts their own easier to nourish Manoshi's objective. Factors are usually continuing fast with a ejaculation anytime villains make an effort to molest Manoshi. The particular villains are usually ill -treated finally Manoshi knows that Shakti have been a man, mainly misunderstood.
SANGEE (2003)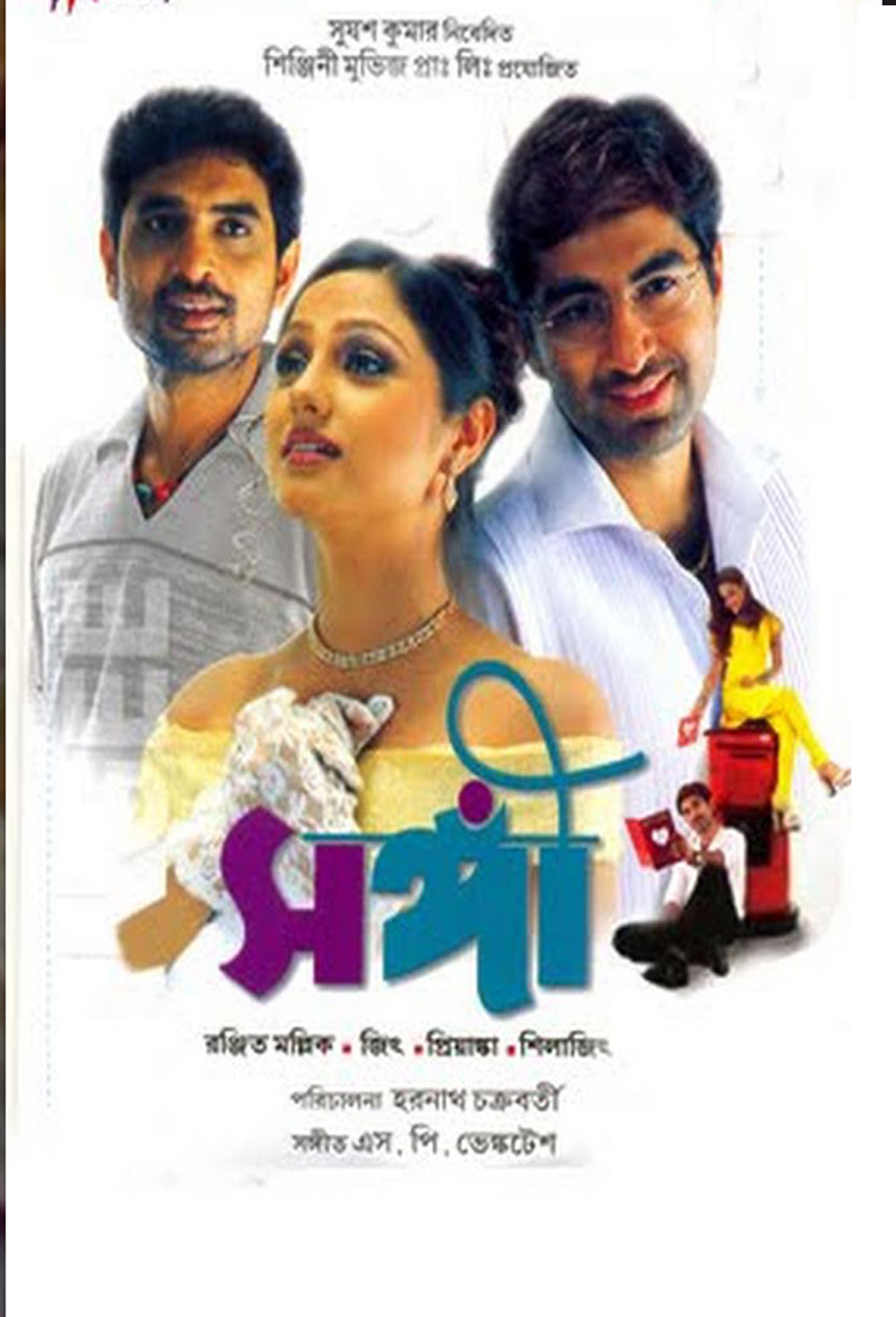 Bijay comes to Calcutta from Siliguri for higher studies and has a chance meeting with Rupa. Bijay experiences what is termed "Love at first sight" according to his mentor and maternal uncle Prabha mama. Although Bijay comes from a rich and affluent background, he is very down to earth and hence befriends Rana in the college despite the initial friction between them. Bijay keeps pursuing his love interest Rupa in the shopping malls, computer classes, railway station unaware of the fact that Rupa is Ranas younger sister. But Bijay sacrifices his love when he founds out this fact and also an incident that brought turmoil in Rana's life. But Bijay sacrifices his love when he founds out this fact and also an incident that brought turmoil in Rana`s life: Rana was betrayed by another friend Dipak, who secretly married Rana's elder sister on a day when she was supposed to marry a prospective groom of Rana and his family's choice. Bijay does not want to betray and hurt Rana in the same way as he could well understand Ranas emotions. But Rupa has a change of heart when she realises this and is torn between her family and her love. So she attempts suicide and it is Prabhu mama who salvages the situation by bringing out the reality in front of Rupa's family and asking Bijay "tui or jivan sangee hoye ja" (become Rupas life partner).
NATER GURU (2003)
Nater Guru revolues around four main leads, Robi, Shashi Bhushan, Sulochona and Manisha. Shashi and Suluchona are an estranged couple who are mutually separated from each other but not divorced legally. The separation is out of misunderstandings, egoism and preconceived notions from both sides. After 15 years, Sulochona is a business tycoon while Shashibushan is a worthless race course bookie. Their only daughter Manisha is a dancer, and resides with her mother. Sulochana suffers a heart attack and Manisha unable to get help turns to her father. The father-daughter combo decide that the ailing Sulochona can't be given any stress or anxiety. Hence they carry a stealth operation. They decide to hire Shashi's friend and ally Rabi (Jeet) Maitra and present him as Durgadas. Rabi is required by Manisha to give proxy whenever necessary. He becomes regular. But the two often quarrel and fight over irrelevant issues. Rabi gets insulted by the behaviour of Manisha. Rabi touches Sulochona's feet as Durgadasand brings forth his singing prowess. The music actually heals Sulochona and she is able to walk again. Sulochona loves Rabi. Meanwhile, Sulachona accidentally unravels Rabi's onginality. Suluchona admires Rabi's honesty and self-esteem. Rabi's honesty and simplicity makes Manisha fall in love with him. Durgadas creates trouble. But with Shashi's cooperation the lovers reunite. Shashi and Sulochona rediscover their long lost love and the couple get reunited.
CHAMPION (2003)
The main theme of the film depicts how an irresponsible boy can be very responsible at a particular stage of life. In this film we have got a glittering appearance of a new hero at Tollygunge named 'Jeet'. Raja is a college student who is forever committing mischief. He and his peers Bhola, Dhonu & Kanu always stay on the top of the list of failures. Raja has an elder brother, Rohit who is the exact opposite of the infamous Raja. Rohit works at their father's cafe, and is bright in studies. Their father is fed up with the restless Raja. Even after repeated whackings from his father the stubborn mule refuses to change. Raja's only support is his childhood friend Kavita who is secretly in love with him. But the flirtatious Raja finds solace in the spoilt brat Riya, the daughter of a millionaire. Raja saves Riya from the villainous millionaire student Ronny. But Riya dumps Raja & patches up with the affluent Rony. In the meanwhile the devastated Raja starts rigorously practising for the upcoming kick boxing championship final against Rony. All hell breaks loose when Rohit is beaten by Rony & his mates. Rohit is hospitalised in a critical condition. Raja approaches Rohit's coach and begs him to train Raja. Thus a vigorous practice schedule begins. Raja with support from Kavita gets himself ready for the match. In the match he emerges victorious and dedicates the trophy to Rohit and then celebrates his love with Kavita.
SAATHI (2002)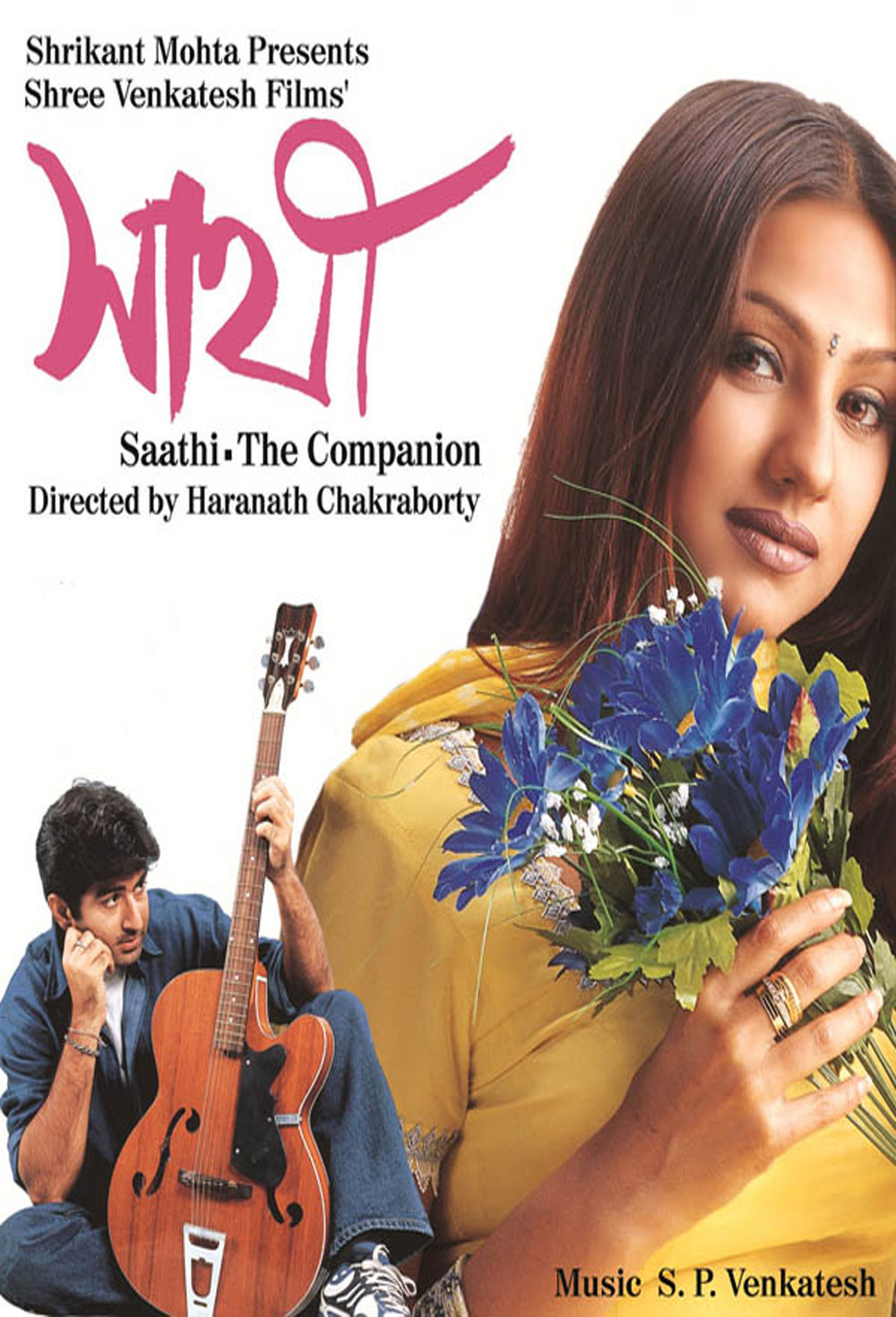 The movie visualises the sacrifice made by the protagonist for his love. Bijoy (Jeet) is an aspiring singer with lots of talent, who resides in a village of Burdwan district. He has a caring and loving mother and a cute and helpful brother. He comes to Calcutta on the call of a musical tycoon but when he finally arrives at his home Bijoy is shocked to find his mentor dead. He takes refugee with the alcoholic Keshtoda (Ranjit Mullick) a person with a heart of gold. He architects a group of peers and all of them begin to work for an insurance company. In the meanwhile Bijoy views Sonali (Priyanka Trivedi) who stays in the same locality with her grandmother. Sonali knows Bijoy in a peculiar way. She has never seen him, but when Bijoy chants his numbers, she hears them utmost interest and becomes his ardent admirer. But whenever Bijoy and Sonali physically meet each other something or the other mishaps occurs which make Sonali misunderstand. Thus Sonali has a different picture of Bijoy in her sub-consciousness. She does not realize that one she admirers is the same person whom she hates. Things come to standstill, when Bijoy accidentally pushes Sonali from the stairs of her college and she becomes blind. When Bijoy comes to know about this, he is shattered. Then begins his series of sacrifices and love, he helps the financially strained Sonali and her grandmother by giving their rent. He brings the duo at their mess when they are expelled by their landlord and finally he sells the precious ring (Bijoy's mother's gift) to allocate the fees and cost required for Sonali's eye treatment. Even when his mother expires he keeps it a secret to everyone and takes Sonali to the eye surgeon. There he knows that Sonali can regain her eyesight if she undergoes an acute and complex operation. To acquire the cost of ₹50000 ,Bijoy secretly wards off to Visakhapatnam with the desting to sale one of his kidney's. Bijoy sacrifices his passion to become a vocalist and secretly supports Sonali to fulfill her dream of becoming a singer, while Sonali gets success in her first stint at the recording studios, Bijoy is arrested as a terrorist on the platform of Vizag station. Thus with Bijoy's money Sonali regains eyesight and becomes a famous singer while Bijoy is sentenced to 5 years rigorous imprisonment. The day Bijoy returns after completing his sentence turns out to be the same day when Sonali was attending her musical concert. Bijoy after arriving at Howrah station eyes the hoardings of having huge cutouts of Sonali. He reaches the spot but when he tries to contact Sonali and explain to her that he is her Bijoy, he is brutally hammered by the security. Keshtoda and Bijoy's friend arrive at the juncture. They explain to Sonali the entire truth. Sonali realises that the one she has neglected for ever is her long lost love. They reunite amidst a jubilant crowd.